Rihanna's new single, "Work," may sound like a warm day, but it hit number one two weeks ago, while a lot of North America was still shaking off the chill of winter. In the U.S., you might expect a reggae-inspired song to top of the Billboard Hot 100 chart in the summer, but those tracks normally flash like burning rum in a pan, then disappear. Could Rihanna's dancehall-infused tune open the door to the U.S. market for more Caribbean sounds?
In recent memory, straight-Caribbean hits seem to only pop up on the U.S. charts in the summer. Think of last year's "Cheerleader" by OMI. Think of 2014's "Rude" by Magic! For many, those tunes are right for wearing white linen in the scorching heat.
As Jon Caramanica argued on the New York Times popcast in July 2015: "Every summer, mainstream america, white America, decides they need a hit of something like this. Unfortunately what that creates is a sort of love and dump situation with the pop mainstream and Jamaican artists […] And then once Labor Day comes and the weather starts to chill, they're basically being shipped back."
But Rihanna's "Work" is different: A late-winter/early spring Caribbean-influenced number one hit. It may be rare. But that doesn't mean it's unheard of.
G/O Media may get a commission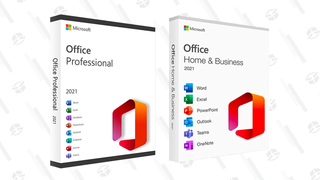 89% off
Microsoft Office Professional 2021 Lifetime License
The theory that Caribbean-inspired hits only do well in the summer ignores several songs that climbed the chart mid-winter. OMI's 2015 hit "Cheerleader," for example, actually started climbing charts around the world in January of last year. Reggae-based smashes have topped the charts in U.S. history all over the calendar year. Ini Kamoze's "Here Comes the Hotstepper" peaked in December of 1994. UB40's cover of Neil Diamond's "Red Red Wine," topped the charts in the U.S. in the fall of 1998. In 2001, Shaggy had two number ones—"It Wasn't Me" and "Angel,"—peak in the first quarter. So did Sean Paul, with "Get Busy" (2003), and "Temperature" (2006).
This momentum is happening outside the Billboard Hot 100 as well. Last year, Spotify's reggaeton playlist—another genre with Caribbean roots—was so popular it ranked number 3 in the world. Another example is bachata, which also originated in the Caribbean, and gifted us Prince Royce's "Stand By Me." Though bachata and reggaeton aren't staples in the Billboard Top 40, they perform highly on the Billboard Latin Charts and have the potential to cross over.
The idea that Caribbean-inspired music isn't a chart staple might be based on a lack of knowledge about how many variations of Caribbean inspiration exist in the Billboard Hot 100. Take, for example, the miscategorization of Rihanna's "Work" as tropical house (think OMI's "Cheerleader") instead of dancehall:
As this video by Nerdwriter1 so aptly points out, even though at first glance, it seems like Rihanna's "Work" is an aberration from the standard number one hit, there is actually a lot of dancehall- and tropical house-infused music in the Top 40 right now. Justin Bieber's flute-y, steel drum-based "Sorry" falls into the category, as does Major Lazer's "Lean On."
There's a history of dancehall-inspired songs occupying the number one spot on the Billboard charts, according to Billboard:

"Rude" … brings reggae stylings back to the chart's summit, marking a rarity. Other reggae rulers in the Hot 100's nearly 56-year history: Sean Paul's "Get Busy" (2003); Shaggy's "It Wasn't Me" and "Angel" (both in 2001); Ini Kamoze's "Here Comes the Hotstepper" (1994); UB40's "Red Red Wine" (1988) and "Can't Help Falling in Love" (1993); fellow Canadian Snow's "Informer" (1993); Maxi Priest's "Close to You" (1990); Eric Clapton's "I Shot the Sheriff," written by reggae king Bob Marley (1974); and Johnny Nash's "I Can See Clearly Now" (1972).
Rihanna's "Work" pulls from all of  those inspirations; listen closely and you can hear it's got the same rhythm as Sean Paul's "Fit and Legit." You can even hear the connection between "Work" and Pitbull's newest hit, "Taxi" — a song originally written (and now featuring) Cuban singer-songwriter Osmani Garcia— fairly easily.
But perhaps it feels like Caribbean songs are just a blip on the national radar because they're fairly often performed by artists who are unfamiliar names in the Billboard Hot 100.
Take, for example, 2015's summer smash hit "Cheerleader." OMI had almost no profile as an artist. He didn't have another single to follow it. He didn't even have an album. But Rihanna, who has a decade-long career and intense starpower, has been infusing Caribbean riddims into her music since her debut album. Hell, her breakthrough hit was 2005's "Pon de Replay," and since then she's gone big with singles like "Man Down" and "Rude Boy." "Work" itself is built on a riddim that originated in a 1998 Jamaican song titled "Sail Away."
"Work" appeals to pop fans and Caribbean music fans. Songs like "Work" actually have a lot of potential to go number one, because they can get played on radio stations of different genres—the sound spreads throughout cities.
When you look at the video for "Work," the distinction between Top 40 hit and dancehall is proclaimed loud and clear. It's really two videos—one with a Jamaican-style warm green/red/yellow color scheme; one in pop star pink and purple.
The question, really, is whether Rihanna's "Work" can sustain a longterm trend for dancehall- and reggae-inspired hits. As Chris Molanphy wrote for Slate in July 2014:

What's most bizarre about America's periodic interest in reggae is the way it comes on like a two-to-three-year fever each decade—and then recedes, never becoming a regular part of the pop stew like club music or hip-hop
In many ways, Caribbean-flavored pop is already mainstream. But Rihanna could be the one who makes it a staple of the Billboard Hot 100. At this point in 2016, it would seem that we should be at the end of the two-three year reggae fever dream Molanphy describes. "Rude," after all, peaked in 2014. Yet Rihanna, with her roots in Barbados and her throne in Top 40 pop, could have triggered a wave that other Caribbean-influenced artists will be happy to ride.
Kelsey McKinney is a culture staff writer for Fusion.