Elections are always a time of uncertainty in Latin America, but this Sunday's presidential election in Guatemala takes the prize.
Guatemalans will go to the polls as a deepening corruption scandal engulfs President Otto Pérez Molina. On Wednesday night, the president resigned after a judge issued a warrant for his arrest. Earlier this week Congress stripped him of immunity from prosecution, allowing a criminal investigation to proceed into allegations he led a major customs corruption ring.
Street protests demanding he face trial had intensified in recent days. Last month, Pérez Molina's closest political ally, former Vice President Roxana Baldetti, was detained for her alleged involvement in the scheme known as "La Línea," which allowed some businessmen to pay bribes and evade import taxes on products that moved through Guatemala's customs agencies.
Pérez Molina, who was not running in this weekend's election, has denied the charges. But prosecutors say they have wiretaps and other evidence that point to his involvement.
With the outgoing president facing a criminal probe for corruption, and an administration that has fallen apart around him, what faith do Guatemalans put in their democracy?
G/O Media may get a commission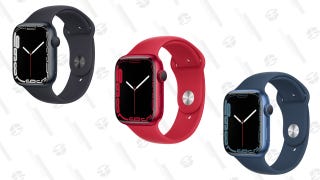 Up To $45 Off
Apple Watch Series 7
The saying goes that every crisis presents an opportunity. But do Guatemalans think the election is a way out of the current crisis, or just another way of going in deeper with new characters? Fusion spoke with young Guatemalans and others closely following the situation on the ground to get their views on Sunday's elections and the protests that helped pressure the president into a corner.
"There's great unity between the social classes for the first time," agricultural businessman Jose Similiano García who has attended the major marches told Fusion in a phone interview from Guatemala City. "The protests have been an absolute mix: youngsters, parents with children, indigenous people, urban residents and 80-year-olds."
But come election time, he claims many fear the candidate leading the polls, Manuel Baldizón, could end up representing more of the same.
Jaime Arimany, a recent Guatemalan college graduate living in the U.S., has been tracking the developments back home.
"On Facebook all you see are posts about Pérez Molina and the protests, people are motivated," he said. "This is one of the few times young people have really organized. Three major demonstrations were organized by the three biggest universities in the country."
"In the protests, you have people who are saying 'Even los hijos de papi are here,'" he said, referring to support from young people in Guatemala's upper classes.
Javier Tabush, a student at a Guatemala City college, said the protests have energized the nation's youth. "Young people are becoming very interested in the well-being of their country."
"But what I fear most are possible irregularities in Sunday's election," Tabush said. "We've seen what the government and some candidates are capable of doing and I wouldn't be surprised if there's mafia tactics."
Congressman Felipe Alejos from the opposition TODOS party told Fusion in a phone interview that Guatemala faces a profound political crisis. He said the looming election prompted several congressmen to vote in support of removing the president's immunity because otherwise they feared they'd be "politically dead."
"People were going to their houses demanding they vote against Pérez Molina," Alejos said. He sees the upcoming elections as plagued by uncertainty.
"I think we are seeing history made," said Harley Shaiken, chair of the Center for Latin American Studies at the University of California, Berkeley.
"The United Nations jump-started the process but it had not gone much further absent civil society," said Shaiken, referring to the corruption probe against President Pérez Molina initiated by the U.N.'s International Commission Against Impunity in Guatemala (CICIG). The commission was created back in 2006 as an independent international body to support Guatemala's attorney general and the strengthening of local judicial institutions.
But in Sunday's election, Guatemalans are all on their own.

"The front-runner in the election is on some level associated with Pérez Molina and that could affect his status," he said. "I think the most likely immediate impact, and we won't know this until votes are counted, is that there could be a late runoff in October."
And although the future looks uncertain, Shaiken said there are lessons to be learned for other countries in the region. "This is all being watched beyond Guatemala," he added.
"Guatemala shows change is possible, even under the most difficult circumstances."