New England Patriots tight end Rob Gronkowski is among the most valuable players in the NFL. He is also one of the league's most colorful, having been seen posing with porn stars and hosting his own cruiseship party.
This led one middle-aged dude named Greg McKenna to take up the pen name Lacey Noonan and self-publish a book called A Gronking To Remember. The book was featured on Jimmy Kimmel Live and its existence was widely celebrated on the Internet.
The book also managed to earn Amazon a lawsuit from the anonymous couple whose photo McKenna used on the cover; as it turns out McKenna did not obtain the rights to use it.
It raised a question: Should third-parties like Amazon be responsible for what their users distribute on their platforms? The question has implications for the likes of Twitter, Facebook, and Google, which provide platforms for speech on the Internet.
Now, an Ohio district court judge has ruled that the answer is: They shouldn't. In granting summary judgment to Amazon (as well Barnes & Noble, which was also named in the couple's suit), Judge Thomas Rose wrote:

…this Court will apply [old] standards to the new technology, treating the Corporate Defendants' process as if it were next logical step after the photocopier, Just as Xerox would not be considered a publisher and held responsible for an invasion of privacy tort carried out with a photocopier, Corporate Defendants will not be liable as publishers for the tort allegedly committed using their technology.
G/O Media may get a commission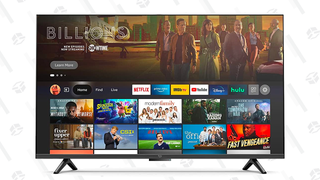 22% off
Amazon Fire TV - 50" Omni Series 4K - Early Access Deal
Rose cited Section 230 of the Communications Decency Act, which states that, "No provider or user of an interactive computer service shall be treated as the publisher or speaker of any information provided by another information content provider."
The Act has recently been criticized for shielding major Internet companies from complaints of allowing harassment, publishing child porn, and inciting terror. The Electronic Freedom Foundation and ACLU have come out strongly in favor of Section 230's protections, saying it allows the free exchange of ideas and relieves the burden of Internet platforms from having to screen everything their users upload to them.
In a comprehensive review of Section 230 cases, a University of North Carolina law professor found its application by courts to be "haphazard," noting that there was about a 60/40 relationship in favor of courts using Section 230 to dismiss claims in a lawsuit.
But as speech on the Internet becomes more fraught, we are likely to see further challenges to Section 23's application.
Rob covers business, economics and the environment for Fusion. He previously worked at Business Insider. He grew up in Chicago.