The U.S Court of Appeals for the Fifth Circuit ruled today to uphold most of the strict laws that make it difficult for women in Texas to get abortions.
In the ruling, the circuit judges said that, "In plain terms, H.B. 2 and its provisions may be applied throughout Texas." The court also added that, however, one clinic who had been subject to admitting privileges rules would be exempt:

… except that Supreme Court precedent requires us to partially uphold the district court's injunction of the ASC requirement as applied to the Whole Woman's Health abortion facility in McAllen, Texas, and to uphold the district court's injunction of the admitting privileges requirement as applied to Dr. Lynn when he is working at the McAllen facility.
Texas Monthly noted in January that certain measures of HB 2, which passed back in 2013, are already in place, namely that "doctors who perform abortions need admitting privileges at nearby hospitals in most parts of the state, and abortions after 20 weeks are illegal."
The admitting privileges clause has made it extremely difficult for abortion clinics in Texas to stay in business. The Washington Post wrote last year that the law is the reason more than a dozen abortion clinics have shut their doors over the past few years. So the Whole Women's Health facility's exemption is a silver lining.
G/O Media may get a commission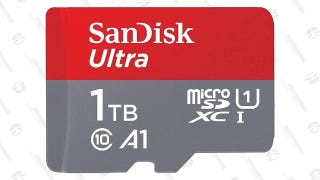 Save $75
SanDisk Ultra 1TB MicroSDXC Card
And as the Texas Tribune notes, Tuesday's decision will likely force more to clinics to close:

A three-judge panel of the U.S. 5th Circuit Court of Appeals ruled that the state can require abortion clinics to meet ambulatory surgical center standards, which include minimum sizes for rooms and doorways, pipelines for anesthesia and other infrastructure. Only a handful of Texas abortion clinics in the state — all in major metropolitan areas — meet those standards.
Texas Attorney General Ken Paxton is on board with the decision, saying in a statement:

HB 2 both protects the unborn and ensures Texas women are not subjected to unsafe and unhealthy conditions. Today's decision by the Fifth Circuit validates that the people of Texas have authority to establish safe, common-sense standards of care necessary to ensure the health of women. Abortion practitioners should have no right to operate their businesses from sub-standard facilities and with doctors who lack admitting privileges at a hospital. This ruling will help protect the health and well-being of Texas women. I am proud to have both supported this law in the legislature and defended it in the courts.
Women's groups are already expressing dismay over the decision:
HB2 was hotly debated when it was introduced, with detractors saying that supporters' claim that the bill protects women is bonkers. Critics also point out that less invasive procedures aren't subject to such strict laws—so claims that hospital-like facilities are need for abortions don't hold water.
Danielle Wiener-Bronner is a news reporter.