Bipartisanship lives—at least when it comes to criminal-justice reform.
Koch Industries, the business empire owned by the conservative Koch Brothers, and the liberal Center for American Progress are typically archenemies in the world of politics. But the two organizations announced Thursday they are teaming up to create a new group called the Coalition for Public Safety.
"Our justice system needs reform," Christine Leonard, executive director of the coalition, said in a statement. "It's simply too complicated, too big, and too expensive — and all Americans are picking up that tab."
The coalition plans a $5 million advocacy effort for reforms such as ending mass incarceration, overhauling harsh sentencing guidelines, and curtailing civil asset forfeitures. It is bringing together other conservative and liberal groups who want to enact changes to the criminal-justice system.
The groups come from different ideological perspectives and are pushing for reforms for their own reasons.

The Center for American Progress (CAP)
This Washington-based think tank is closely aligned with the Obama administration. Recently, it has pushed for reforms in the wake of the police shooting of Michael Brown, an unarmed black man in Ferguson, Missouri. They include the use of special prosecutors in police-misconduct investigations and data collection on police shooting incidents.
G/O Media may get a commission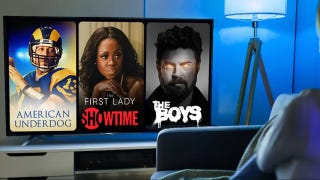 UNDER $1
99¢ Prime Video Channels
On a conference call with reporters Thursday, CAP President Neera Tanden said mass incarceration is a main driver of poverty and unemployment in low-income communities. Job losses among people with criminal records costs the U.S. $65 billion per year in gross domestic product, according to a study by the organization published last December.

Koch Industries
In addition to their corporation, the Koch brothers oversee a political network that plans to spend almost $900 million in the 2016 elections. Democrats have ripped the Koch brothers for exerting outsized influence on politics. But the billionaire brothers, who have libertarian leanings, have found common ground with liberals on criminal-justice reform.
"We obviously have disagreements and but the real issue is how much we can do together on this topic," Tanden said when asked if the coalition could survive the rancor of the 2016 presidential election.
A Koch Industries representative recently met with Sen. Cory Booker (D-N.J.) about a sentencing reform bill he is co-sponsoring with Sen. Rand Paul (R-Ky.), according to The Huffington Post. The legislation, called the REDEEM Act, would raise the age of criminal responsibility to 18, among other changes.
Other changes the Kochs have supported are reducing mandatory minimum sentencing, improving rehabilitation for prisoners, and better funding for public defenders.
Koch Industries is helping fund the new coalition, along with the Ford Foundation, the MacArthur Foundation, and the Laura and John Arnold Foundation.

American Civil Liberties Union (ACLU)
The ACLU is a veteran advocate for criminal-justice reform, but they're happy to have more allies in the fight.
The group believes that sweeping changes are needed in Congress and at the state level, from reducing sentencing disparities in drug arrests to cleaning up the juvenile justice system.
"We finally have the wind at our backs when it comes to criminal-justice reform across America," ACLU Executive Director Anthony Romero told reporters. "We are thrilled to be finding common cause with groups like Americans for Tax Reform and Koch Industries."
Romero said it's important for the coalition to identify opportunities to score legislative victories, but that the issues plaguing America's criminal-justice system won't be solved quickly.
The problem is "one that's going to take several years to undo," Romero said. "It's taken 40 years to build our addiction to mass incarceration."

FreedomWorks
The Tea Party-aligned group supports a number of changes, including the Smarter Sentencing Act and stopping law enforcement from seizing money and property from people during traffic stops and home searches.
The group's president and CEO, Matt Kibbe, also cited the fiscal cost of mass incarceration. A study released last year found that the U.S. spent $80 billion on corrections in 2010.
David H. Koch is helping bankroll the criminal-justice reform coalition. (Photo by Paul Zimmerman/WireImage)

Leadership Conference Education Fund
The civil-rights umbrella group has railed against arrests for non-violent drug crimes, which have had a disproportionate impact on minority communities.
"We've destroyed black and brown communities all over the nation by locking up black and brown men and depriving those communities of some of their most productive citizens," said Wade Henderson, the group's president and chief executive officer.

Americans for Tax Reform
The anti-tax group led by conservative activist Grover Norquist also found common ground with Democrats on immigration reform. Norquist cited the high cost of maintaining the country's prison population, which totaled 6.9 million in 2012.
"We should measure success by how few crimes are committed, how few crimes go unpunished, not by the amount of tax dollars spent on prisons or the number of American citizens incarcerated," Norquist said in a statement.

Right on Crime
The conservative reform group counts Jeb Bush and Newt Gingrich as supporters. It has long argued that locking up non-violent offenders often has unintended negative consequences and has pushed for increased use of alternatives to prison, such as probation.
"Our country cannot continue to have a system in which non-violent offenders emerge from prisons more dangerous than they were when they entered," said Right on Crime policy director Mark Levin.

Faith and Freedom Coalition
This group was founded by Ralph Reed, a prominent figure on the religious right. Like other conservative groups, the Faith and Freedom Coalition cited fiscal and moral reasons for joining the coalition.
"Our nation deserves a justice system that protects the public, reduces crime and its cost to taxpayers, and provides a pathway to rehabilitation for those who choose to take it," said executive director Timothy Head.
Jordan Fabian is Fusion's politics editor, writing about campaigns, Congress, immigration, and more. When he's not working, you can find him at the ice rink or at home with his wife, Melissa.