Cubans have long complained that their country is one of the world's least connected, and now they're sending signals they want more and better Internet access.
This week, graffiti — the original social media — appeared in parts of Havana calling on the government to allow more Cubans to get online, according to CNN. In a subtle but clear message, the graffiti showed a wi-fi symbol painted in the Cuban national colors of red, white and blue.
In another sign of Cubans' demand for bandwidth, young people have flocked to the country's first public wireless network after it recently opened in Havana's cultural center. The free, government-approved wifi access is offered by a Cuban artist with close ties to the government. It has drawn large groups Cubans eager to connect to Facebook and other social media sites to communicate with friends and family outside of the country.
G/O Media may get a commission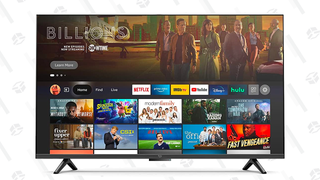 22% off
Amazon Fire TV - 50" Omni Series 4K - Early Access Deal
Although a small step, the public wifi hub is seen as potentially significant harbinger of an impending digital revolution. Cuba has one of the lowest Internet-penetration rates in the world. Broadband connections in Cuban homes are practically non-existent. Internet access is largely limited to government offices and state-run cafes, where an hour of surfing the web can cost around $4.50, the equivalent of a week's salary for many Cubans.
And even those who are able to connect often find speeds similar to the dial-up era in developed countries. And there's still no Internet on mobile phones.
Nearly four months after presidents Obama and Castro announced a new era in bilateral relations, telecommunications is among the key issues being discussed between the two countries. Telecommunications equipment and services were among the first to be given exemptions to the longtime U.S. embargo, and an American delegation traveled to the island last week to meet with Cuban officials to discuss telecoms issues.
Earlier this week, a senior U.S. official close to the talks said the Cuban government wants to increase Cubans' access to the Internet, while continuing to exert government control as the main provider of the service, according to Agence France Presse (AFP).
"They are looking for mechanisms by which, in the first instance, they can expand connectivity while at the same time retaining their mechanism for market management, which is obviously vastly different than ours," the State Department official said, according to AFP.
Still, the Cuban government appears intent on upgrading its telecommunications infrastructure and Cubans are hoping that will soon translate into better Internet service on the island.