Cynthia Nixon is having a great day on the campaign trail and I couldn't be more pleased.
On Wednesday, she called on Democrats to let black women, the party's "backbone," lead, went on the record to say she supports legalizing and taxing marijuana, and got a huge sign of just how threatened incumbent Gov. Andrew Cuomo appears by her campaign against him.
"I am absolutely for the legalization of marijuana," Nixon said Wednesday morning during her first national TV appearance as a New York gubernatorial candidate on The Wendy Williams Show. "Let's capture some of that revenue."
That declaration comes after Nixon reportedly gave a literal fist-pumping "yes!" when asked if she would support legalizing marijuana at a fundraising event in New York City last week. That's a smart move—#NIXMENTUM #420BLAZEIT—not only because the city's come under fire for disproportionately enforcing its weed laws along racial lines but also because legalization is a policy that's wildly popular with voters.
When Williams asked Nixon how black women could help elect her, Nixon also called on the party to center the voters who've long been its "cornerstone," saying black women voters will stop showing up for the party "if the Democratic Party doesn't start showing up for them."
G/O Media may get a commission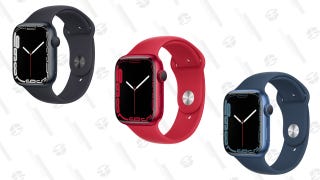 Up To $45 Off
Apple Watch Series 7
"We need to let them lead," she said.
Nixon is facing off against Cuomo for the Democratic nomination in September. She tweeted Wednesday about her campaign being the antithesis to how Cuomo has governed the state, accusing him of propping up the Independent Democratic Conference—a group of Democrats in the state Senate who vote with Republicans, thereby giving them the majority.
Coincidentally, the New York Times reported on Wednesday that those rogue Democrats suddenly appear ready to rejoin the party rank-and-file after years of infighting. All it took was Cuomo asking them over a steakhouse dinner.
This seems like a clear reaction to Nixon's candidacy, as she pointed out:
Cuomo, who is definitely not concerned about a challenge from his own party's progressive wing, seems to mostly be spending his days engaging in a meaningless pissing match with Mayor Bill de Blasio, where he's using low-income New Yorkers as props.

Meanwhile, I superstitiously hold my breath as Nixon continues to do and say all the right things.