All things considered, Nancy Pelosi is having a pretty good 2019 so far. She was just re-elected Speaker of the House after dismantling opposition within her own party, and polling has shown that President Donald Trump is garnering more of the blame for the ongoing federal government shutdown than the Democrats.

So to congratulate her on her election as Speaker, Daily Kos, the Democratic activist site, held a fundraiser to buy roses for Pelosi. Why? Founder and 2018 Splinter Idiot Markos Moulitsas explained (emphasis mine):
The year 2019 will be politically tumultuous, with a cornered traitor in the White House more erratic and dangerous than ever, and the inevitable Democratic pie war as our massive 20-something-candidate presidential field shapes up. But before we get to the poo-flinging (both internal and external), let's do something nice for once.

We're going to take a page from previous community efforts and welcome Speaker Nancy Pelosi with thousands of roses! If $10 buys three roses, we want to get to 10,000, filling her office with a tangible, physical sign of our deep gratitude and appreciation for her strong leadership of our House caucus.
True to form, Moulitsas dropped seven thousand roses off to Pelosi's office yesterday. She donated the rest—18,000 roses—to Walter Reed Medical Center.
G/O Media may get a commission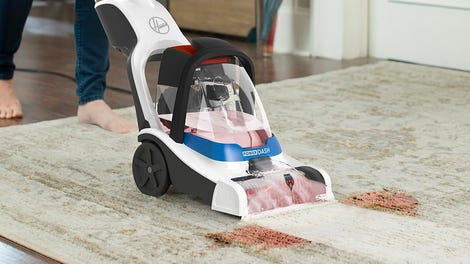 26% Off
Hoover PowerDash Pet Compact Carpet Cleaner
She looks thrilled.
According to the site's own numbers, each rose cost $3.33, meaning that Daily Kos readers came together to give more than $83,000 for what is essentially a photo op. [See update below.] No one wants that many roses. No one needs that many roses, unless your job is selling roses. (Yes, 18,000 of those roses went to the hospital—a nice gesture—but that was Pelosi's move, and also not what the drive was for.)
As Moulitsas noted, this isn't the first time they've done a rose drive. The site's readers sent over 2,000 roses to Pelosi for her birthday in 2010, and 5,000 roses to former California Sen. Barbara Boxer for Valentine's Day in 2005.
Seven thousand, however, is a new number. And what did seven thousand roses actually look like in person? From the Washington Post's coverage of the dropoff:
The scene in Pelosi's office in the Longworth House Office Building on Wednesday resembled a cross between a wholesale florist's fridge and what you'd imagine Beyoncé's dressing room looks like: Buckets of long stems topped every available surface, and the scent was so powerful you could smell it in the hallway.

"I've never seen so many roses in my life," Pelosi said as she surveyed the veritable garden.

Moulitsas chalked up the flower drive's success to people's desire for a rare sweet gesture in an often-negative political landscape. "People wanted to do something nice for once," he said.
Disregarding the absurdity that this constitutes "doing something nice for once," there is an endless list of nicer and more meaningful things you can do with tens of thousands of dollars—like donating to a community bail fund, food pantries, or paying off lunch debts at local schools, to name just a few—than starting a drive to buy roses for a millionaire who is third in line to the presidency, and then dropping them all over her office. A dozen roses would've been fine! Maybe a hundred! Seven thousand? Not into it. Overkill. Intensely weird.
According to Moulitsas, he conducted an interview with Pelosi after this, which raises the question: How, exactly, do you conduct a fair and honest interview with someone you just gave thousands of roses to?
Update, 1/11/2019, 12:29 p.m. ET: After the publication of this story, a Daily Kos spokesperson reached out to clarify that the initial quote given to Moulitsas was incorrect and that the total cost of the flowers ultimately came out to "slightly" more than $22,000. Overall, the site raised $35,169.55 for the flowers, which also went to prepping the flowers, delivering them, and making a video. So, just a little more than $35,000 for flowers then. Totally reasonable.