With just five days to go before the filing deadline for Texas' 2018 governor's race, Dallas County Sheriff Lupe Valdez has officially thrown her hat in the ring.

Announcing her candidacy on Wednesday, Valdez—who is openly gay, the child of migrant farm workers and "the only Hispanic female sheriff in the United States," according to her website—touted her Texas roots:
Like so many hardworking Texans, I know it's tough deciding between buying food, finding a decent place to live, and setting aside money for college tuition. Opportunity in Texas ought to be as big as this great state, but it is out of reach for far too many, that's why I'm running for Texas Governor. I'm a proud Texas Democrat. I believe good government can make people's lives better, and I intend to do just that.
Prior to Wednesday's announcement, Texas Democrats had few serious contenders in the race. Valdez, however, offers a compelling contrast to current Republican governor Greg Abbott, and is seen by Texas political observers as his highest-profile challenger.
Valdez has clashed with Abbott in the past over immigration. In 2015, she announced she would review federal immigration detainer requests on a case-by-case basis rather than accepting them wholesale. Abbot criticized her decision as a "serious danger to Texans." Two years later, Valdez co-authored an opinion piece for The Hill, asking Congress to "not burden local law enforcement on immigration."
G/O Media may get a commission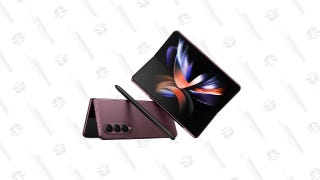 Save Up to $300
Galaxy Z Fold4
Even so, Valdez has hardly been a reliable ally. In 2016, for example, the Dallas County Sheriff's office notably honored all 2,500 federal immigration detainer requests.
"It's very disappointing that she's a Latina ... that she comes from an immigrant background, and she refuses to stand with the community," Carolina Canizales, the San Antonio-based deportation defense director of United We Dream, told the Texas Tribune in 2015. "For us, she still has a lot of work to do."
Given that Texas hasn't put a Democrat in the governor's office in more than two decades, even Valdez's decidedly mixed immigration stance is no guarantee she'll have an easy race against Abbott, who has an estimated $40 million in his campaign war chest.
Per Texas law, Valdez must immediately resign her position as Dallas County Sheriff, after having announced her gubernatorial candidacy. Dallas County Commissioners will then name an interim replacement until a new sheriff is elected.