In 2004, the comedian Dave Chappelle famously imitated Prince on the Chapelle Show, reenacting an outlandish story about his beating Charlie and Eddie Murphy in a game of basketball—a story that Prince later corroborated as true. The iconic skit has been viewed over 600,000 times since Prince's death. Last week in San Francisco, one-time Prince imitator Chappelle paid tribute to the icon at a live show at The Chapel, but you won't find a shaky video of that tribute on YouTube racking up views. Via The San Francisco Chronicle:

There were no smartphones in this crowd; those phones were locked in high-tech pouches, provided by the S.F.-based startup Yondr, to keep the audience focused on the epic tribute on stage.
San Francisco start-up Yondr has introduced what many a luddite at a concert or live show has long wanted: the ability to force people to put their phones away. People get to keep their phones but they have to put them into a fabric case that is locked as they enter the performance area. If their phone rings or when they're ready to leave, they walk out into the designated phone area, waving the case over an unlocking station to regain access to their precious.
Plenty of performers have phone bans in place, usually in the form of vaguely threatening signs around venues asking you to please not record the performance on pain of death. Some musicians, like Ryan Adams, ban phones and flash photography because it can trigger an attack of migraine or meniere's. But Yondr makes it possible to enforce the ban technologically, making it possible for artists to more easily prevent their material from being recorded and uploaded to the web against their consent.
G/O Media may get a commission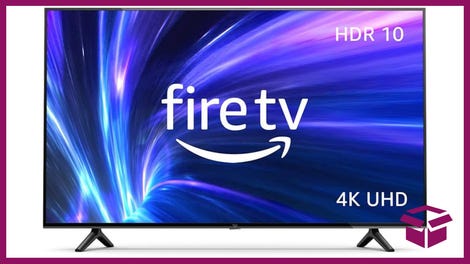 42% Off
Amazon Fire TV 50" 4K Smart TV
Chappelle has used Yondr cases before, including during a series of shows in Chicago. And he's not the only one: comedian Hannibal Buress also tapped Yondr after his set calling out Bill Cosby as a rapist went viral, bringing with it a torrent of death threats. Comedians seem especially sensitive to having their shows taped without their consent, as Chris Rock explained in 2014 when asked about the effect of cell phones on shows:

It is scary, because the thing about comedians is that you're the only ones who practice in front of a crowd. Prince doesn't run a demo on the radio. But in stand-up, the demo gets out. There are a few guys good enough to write a perfect act and get onstage, but everybody else workshops it and workshops it, and it can get real messy.
Enforcing a no-phone rule short of confiscating everyone's phone at the door wasn't possible until a technology like Yondr came up with a foolproof way to enforce it—or almost foolproof.
Trevor Timm, an attendee at one of Chappelle's San Francisco shows last Wednesday, told Fusion that he saw a hacked-up Yondr case with a large hole that had been left in the bathroom; a very determined person had evidently been able to free their phone.
Timm said that the cases improved the experience of the performance.
"It was definitely a more positive experience because you were a lot more immersed in the show," he told me by phone. "Both because there weren't tons of people holding up their phones and taking pictures, and especially because at Chapelle shows in the past people taking out their phones and shooting video has become distracting enough that he's addressed it onstage, and it sometimes turns into a heckling situation that directly disrupts the show."
Yondr's SF-based founder Graham Dungoni said the cases' purpose goes beyond live shows. Yondr is predicated on the idea that many of our life experiences have been fundamentally altered by a compulsive drive to document and share them in images shot on our phones.
"It appeals to people to have a space where it's socially acceptable to step off the grid, and it's also creating a space where artists can do their thing and be swept up in that shared mood with their audience," he told me.
Dungoni listed some of the company's bigger clients, including Chappelle, Chris Rock, Louis C.K., Guns N' Roses and Alicia Keys, and said that he felt the quick uptake of the tech would mean that attitudes around putting your phone down would continue to change over the next decade. "It takes a while for social norms to change and adjust, but all we do is bridge the gap between now and where we'll be ten years from now," he told me.
Phones are terrific and modern life without them would be extremely difficult, but it could be beneficial to force us away from them every once in a while. Deloitte found that the average American checks their phone 86 times a day. Looking down at them that often is changing our spinal curvature for the worse. Spending too much time with our phones at night disturbs our circadian rhythm. Putting it away in a locked case for a portion of every day might be a doctor's order one day.
On the hacked-up case, Dungoni expressed sadness over the inevitability of someone who wants to bend the rules, but said that shaming from the rest of the crowd was often an effective way of policing it, as well as escorting phone users off the premises. "If you want to smuggle a phone in in your underwear and pull it out, generally you've got bigger problems," he said.
People determined to be inconsiderate asshats aside, outside of live shows, Yondr might also find a solid future at trivia nights, where that person who always manages to cheat by looking up which U.S. President has an extensive knowledge of My Little Pony will finally be thwarted forever.
*Disclosure: Trevor Timm is the partner of Real Future editor, Kashmir Hill.
Elmo is a writer with Real Future.