"The Exes" star David Alan Basche sat down with Fusion's Alicia Menendez on Monday to talk about his sitcom, his wife and Betty White.
Basche plays Stuart Gardner, a recently divorced dentist on the show, which is now in its third season.
"That's just so much fun for me to be able to be silly and be the good guy," he said of his role on the show.
"I've been lucky enough to bounce around in my career [when it comes to roles]," he added, noting that in Lipstick Jungle he played "quite a dick."
While Basche might play a divorced man, in reality, he's happily married to actress Alysia Reiner, who plays prison administrator and assistant to the warden Natalie Figueroa "Fig" on the popular show "Orange Is the New Black."
G/O Media may get a commission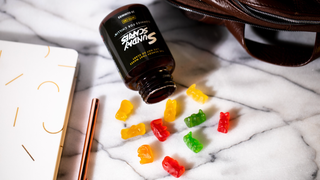 10mg CBD Gummies (22-Count)
"This is a big hit like I've never seen before," he said of the wildly successful prison comedy-drama.
Of his wife's success, the actor told Menendez, "It's fantastic…her star has always been on the rise for me."
"I can't walk 10 feet down the streets of New York without somebody stopping her," he said. "Maybe someone will recognize me on the subway soon."
That's not unlikely. Basche recently decided to promote his own show, "The Exes," in a somewhat unusual way. He wrote, directed and performed "On My Sitcom," a short rap that features brief appearances by costars Donald Faison and Kristen Johnston, as well as a few lines about Betty White.
"Yeah, Betty White, she's got a slammin' rack," he raps before driving a golf cart to the "Hot in Cleveland" star's set (both shows are TV Land productions) to rendezvous with the beloved actress.
"We were just having fun," he said when Menendez asked if he was "worried about objectifying America's favorite Golden Girl."
In fact, he said, he probably owes White for his job. She helped put TV Land on the map with "Hot in Cleveland."
Does Basche secretly want to be a rapper?
"I secretly never want to have to be a rapper," he said. "No. I'm so bad at it!"
"The Exes" airs Wednesday nights at 10:30 p.m. ET/PT on TV Land.
Emily DeRuy is a Washington, D.C.-based associate editor, covering education, reproductive rights, and inequality. A San Francisco native, she enjoys Giants baseball and misses Philz terribly.