If common sense isn't your thing but overpriced cocktails are, well walk right this way and let me introduce you to the douchey bar of your dreams.

Diet Starts Monday, a new and presumably hip Washington, DC, restaurant and bar that is also—of course!—a lifestyle brand and clothing retailer, is serving up a drink called the "Pill Cosby." Get it, because Bill Cosby put pills in women's drinks? Commence laughter, right?
Diet Starts Monday's co-founder told Washingtonian magazine that the hibiscus and tequila-based drink "lets people be more aware" of date rape.
Yes folks, because the PSA we all need right now is weak-ass, $14 topical wordplay served with two empty plastic capsules to really drive home the importance of looking out for sexual predators.
G/O Media may get a commission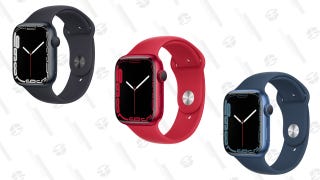 Up To $45 Off
Apple Watch Series 7
From Washingtonian:
Gentry says the pill-topped cocktail, which appears on a list of others named after African-American celebrities with ties to DC (i.e. Dave Chapelle, Taraji P. Henson), also plays into the diet themes that run through the menu and clothes. Like the rest of brand, it's meant to push boundaries.
But a simple Google search for Diet Starts Monday shows these assholes just think pills look cool.
From the icon on their browser tab:
To their bathroom decor:
To their social media messaging:
Clearly, pills are just part of the aesthetic (and the "fun") at Diet Starts Monday. Fine, sure, but maybe just serve up your dumb drink with some good old-fashioned "Whatever, bruh" tone-deafness rather than retrofitting it to some righteous "raising awareness" PSA so you can get away with it.

But this is the same place trying to hawk a $15 bacon-wrapped hot dog to you, so if you want to indulge in some terrible decision-making, you know where to go.
I called the bar for comment and was forwarded to a Google voicemail account. If we hear back from these pill-loving bros, we'll let you know.
Update, 4:57 PM: Faster than you can say "Grand opening! Grand closing!" Diet Starts Monday said they have taken the drink off the menu. They also took to Twitter to (somewhat) apologize.