Anyone who's spent a considerable amount of time following the adventures of Deadpool knows that the character's usually defined by a number of key traits; in particular: his sarcasm, wit, and penchant for breaking the fourth wall to talk directly to readers.
One of the character's less-known (though just as important) personality traits has to do with his amorphous sexuality. In his 24 years of mercenary work, Deadpool's expressed a variety of sexual interests in men and women alike, with his preference seemingly shifting to adapt to whatever the present situation called for.
In 2013 Deadpool NOW writer Gerry Duggan confirmed that the character was down to "do anything with a pulse," a description that Deadpool fans have more appropriately identified as pansexuality.
G/O Media may get a commission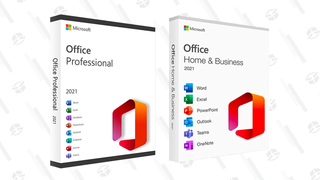 89% off
Microsoft Office Professional 2021 Lifetime License
One of the fandom's more pressing questions about next year's Deadpool film, which will link to Fox's larger X-Men universe, was just how the studio would handle Deadpool's sexuality on the big screen. To be clear—there's yet to be a queer superhero portrayed in a big-budget film like Deadpool and Fox needs another superhero hit after The Fantastic Four.
In a recent interview with Collider, however, Deadpool director Tim Miller set the record straight, as it were:
"Pansexual! I want that quoted," Miller said when asked about whether or not the character's sexuality would play into the film's plot. "Pansexual Deadpool."
Reynolds elaborated:

There is some sexuality in this movie for sure. You kinda think you have moments when you're shooting where you think, "This is, uh, a little excessive. This is a comic book movie. Are we gonna get away with this?" But so far so good.

Studio hasn't crushed us with anything. They were here yesterday, they were thrilled, they saw some cut footage and so far so good.
So it's settled, folks. Deadpool will definitely be pansexual and mainstream movies will finally feature a non-straight superhero. Good job, team.