Thanks to concerned neighbors who worried about the young migrant children being taken into a vacant office building in Phoenix, and then called police (and journalists), we now know that the Trump administration's targeting of children in its immigration crackdown is worse than imagined.
An investigative report by Reveal found that an important U.S. defense contractor that once provided security for CIA facilities in Iraq is now in the migrant child detention business, although the company won't fully admit it, and the details aren't entirely clear.

What is known is that the company, MVM, signed a long-term lease on a building in Phoenix in March, before Attorney General Jeff Sessions announced Trump's plan to separate migrant families under the administration's so-called "zero tolerance" policy. MVM has had $248 million in contracts to transport immigrant children since 2014, Reveal said.

The office building had dark windows, no kitchen, and limited restroom facilities, yet mysterious-looking people ushered several Spanish-speaking migrant children into the building and held them there, apparently for weeks. Reveal's investigation found that according to the building's lease, it is not to be used for things like jailing kids, and even if it were, it's not licensed in the state of Arizona to be operated as a child care facility.

Lianna Dunlap, a neighbor who lives next to the building, recorded video on her cellphone of "workers pulling up in white vans and leading dazed children into the building. When she asked questions, she said the workers responded with silence or terse answers," the report said.

G/O Media may get a commission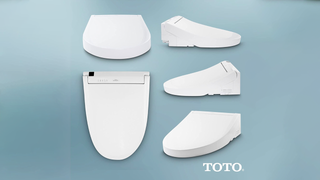 44% off
Toto Washlet Electronic Bidet Toilet Seat
MVM claims it does not operate child shelters. But watch this:

"There's been times where I drive by and I just start crying because, you know, it's right behind my house," Dunlap told Reveal. "I don't know and I think that's the worst part – not knowing what's actually going on in there and just hoping that they're OK."

According to the report:

An inflatable mattress, a box marked "baby shampoo," a medication schedule and other items spotted inside the building last week indicate that children could have been held there for an extended period. Dunlap and other neighbors say they never saw the children taken outside to play. They watched as pallets of water and boxes of food were brought in.

Three weeks later, the neighbors say they saw five unmarked white vans that hold about 12 passengers each pull up to take children away. It was June 22, two days after Trump signed an executive order to end his administration's policy of separating families.
Through a spokesperson, MVM initially said it wasn't housing any migrant children. But when confronted with video from concerned neighbors, the company then claimed the building was being used as "a temporary holding place" for children being flown out of the city to other locations. "Asked whether the children were kept there overnight," Reveal said, "the spokesperson said the building is intended to hold them for a few hours before flights but was unsure how long children actually ended up staying."

But Dunlap and other neighbors said they never saw any of the children leave the building in the three weeks they appear to have been there. Before she found out about Trump's "zero tolerance" policy, Dunlap, who works as a teaching assistant for children with autism, said she thought the kids were being trafficked.

Another neighbor, who is a behavioral therapist, also was concerned. From the report:

Kristen Brown, a behavioral therapist who lives next to Dunlap with her 2-year-old son, was concerned about the lack of space and facilities for children inside the MVM office building.

"My kid has the ability to run around and play, and there are 40 kids in that place that I don't know what you're doing with," she recalled telling one on-site worker. "That, as a mom, it doesn't feel right."

Dunlap said she never saw any children leave the building until nearly three weeks after they arrived. When Dunlap tried to take video of that departure, she said workers spotted her watching from her kitchen window and blocked her view with vehicles. She said she watched children's feet as they filed out of the building.
The neighbors ended up calling the police, but a public information officer at the Phoenix police department said that U.S. Immigration and Customs Enforcement confirmed the company had been contracted to "perform that transport."

The entire ordeal is chilling. Read the story here.