The story of North Carolina's 9th District congressional race keeps getting stranger and stranger. There is mounting evidence that Republican candidate Mark Harris, who beat Democrat Dan McCready by 905 votes, employed a political operative who may have illegally tampered with or destroyed absentee ballots, helping Harris win the race. Now, in response to these allegations, McCready has retracted his concession, the Associated Press reports.

Last week, the bipartisan North Carolina elections board refused to certify the results of the election due to questions about absentee ballots. The board is scheduled to meet later this month to discuss the possible fraudulent activity, though it's unknown whether the race will be settled by then. It's also possible that the board could order a new election.
In North Carolina, it's illegal for anyone but family members or legal guardians to turn in completed ballots. Harris' campaign hired Red Dome Group, who contracted with local operative Leslie McCrae Dowless in Bladen County. Dowless is alleged to have sent people to collect ballots from voters. Several affidavits collected by the state Democratic Party from Bladen County voters describe strangers coming to their doors and asking them to hand over their absentee ballots. Others have told reporters that they were paid to collect absentee ballots and return them to Dowless' office.
Today, state GOP Executive Director Dallas Woodhouse told the AP that the party would consider backing a new election if the state election's board could show the alleged fraudulent activity changed the outcome of the race.
G/O Media may get a commission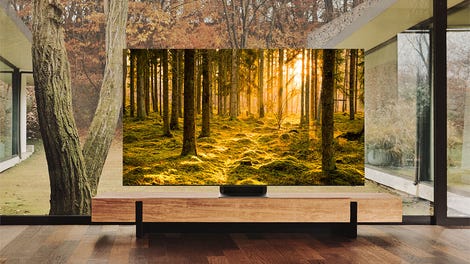 Up to 40% off
Samsung Smart TVs
"If they can show a substantial likelihood it could have changed the race then we fully would support a new election," Woodhouse said.
Last week, state GOP Chairman Robin Hayes issued a statement suggesting the fraud allegations were a political ploy on the part of Democrats.
"Democrats are throwing everything, including the kitchen sink, at the wall to try and steal an election," Hays said last Thursday.
Woodhouse maintains that if the number of ballots in question wouldn't have changed the final results, Harris should be certified as the winner. But at this point, even that might not be enough to secure Harris a seat.
From AP:
Amid the developments, U.S. House Democratic Leader Nancy Pelosi said Thursday the House "retains the right to decide who is seated" and could take the "extraordinary step" of calling for a new election if the winner isn't clear. [...]

It's "bigger than that one seat," [Pelosi] said, pointing to the overall "integrity of elections."
Some North Carolina Republicans agree with Democrats that this kind of irregularity is a long-unaddressed issue in Bladen County.
"What we cannot have going forward from this point is an investigative and enforcement effort or process that has a partisan taint that could dramatically worsen the situation," Senator Dan Bishop, a Charlotte Republican, told AP.