We're now almost halfway through the 2018 primary schedule, and the big take coming out of Tuesday's eight primaries was that the Democratic establishment is ascendant, with centrist candidates rolling over those backed by Bernie Sanders and other groups on the left. Here's Third Way's Jim Kessler, who gloated at the big defeat of an Iowa congressional candidate whom Sanders went all in for:
Love that quiet middle, which according to Third Way also apparently includes Deb Haaland. Haaland, who will likely be the first Native American congresswoman in history, espouses centrist positions like [checks notes] Medicare for All, a federal jobs guarantee, debt-free college, free child care, federal funding to end hunger, and an unabashed support for labor rights. That about sums up what's happening in Jim's beloved Democratic Party right now.
It is true that the party establishment has been having a good year so far. The Democratic Congressional Campaign Committee endorsed, through its Red to Blue program, seven candidates who had competitive House primaries on Tuesday. Six of them have advanced to the general so far; the ballots are still being counted in California's 48th Congressional District, and currently just 45 votes separate the DCCC-backed Harley Rouda from fellow Democrat Hans Keirstead for second place. It appears to be about a 50-50 chance right now that the DCCC could eventually go seven for seven on Tuesday night's races.

The Bernie Sanders-affiliated Our Revolution, on the other hand, endorsed 11 House candidates who had races on Tuesday night; three of them advanced to the general election. Justice Democrats, another progressive campaign group, fared slightly better and went three for seven, although one of their endorsements, Ro Khanna, is a sitting Congressman.
There's definitely a disparity there, but let's remember that one of these entities is an official campaign arm of the Democratic Party, and the others are groups which started less than two years ago, and which largely seem willing to endorse pretty much anyone who a) backs a Sanders-style platform and b) asks for an endorsement. Two of Our Revolution's Tuesday endorsements, for example, came against incumbent moderate House Democrats in California. The re-election rate for House incumbents in 2016 was 97 percent, according to the Center for Responsible Politics, and hasn't dipped below 85 percent in at least 54 years.
G/O Media may get a commission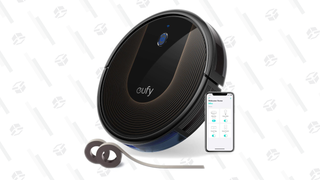 48% Off
Eufy BoostIQ RoboVac
"We know that not all of our endorsed candidates will win every election," Our Revolution president Nina Turner said in a statement on Wednesday. "But we recognize that by running they are doing the necessary work to advance the values we share—expanding health care to everyone, raising the minimum wage to $15, protecting our environment, and reducing income and wealth inequality."
There's valid criticisms of this strategy and these organizations. But to dismiss the left's impact in 2018 solely on its win-loss records against the DCCC is decidedly dumb. A better measure would be to look at how far the candidates who represent the supposedly "moderate" option have shifted left.
Hillary Clinton won seven districts in California that are currently represented by Republicans. In two of those districts, the candidate who advanced or was poised to advance (Josh Harder in the 10th and Katie Porter in the 25th) openly supports Medicare for All. Gil Cisneros and Mike Levin, who both appeared to advance to their general elections, both say they want a public option to buy into Medicare. Katie Hill, who appeared to be on track to beat Justice Democrats-backed candidate Bryan Caforio in the 25th, is running on a two-tiered approach to improve the current system while "laying the foundation" for a transition to Medicare for All. In the seat where it's essentially a coin toss on which Democrat will make it to the general, Rouda supports Medicare for All, and Keirstead takes a similar tack as Hill.
Even the DCCC, which by its very nature tends to fall over its own ass to endorse prosecutors who want to put the national debt in jail, has been pulled ever-so-slightly to the left. As the Washington Post's Dave Weigel pointed out on Wednesday, Rouda—the DCCC-endorsed candidate in a California swing district and a former GOP donor—has endorsed not only Medicare for All, but tuition-free college. And at least two other DCCC-endorsed candidates, Gina Ortiz Jones in Texas and Randy Bryce in Wisconsin (who had previously been endorsed by Justice Democrats), have endorsed single payer.

In addition to the all-important House races, there are high-profile races in California (for U.S. Senate) and New York (for governor) where entrenched incumbents who have overwhelming support from the establishment are being dragged to the left kicking and screaming by their upstart challengers. And there's the fact that every Democratic senator who's weighing a 2020 bid has signed onto Sanders' Medicare for All bill, and that young, left wing candidates are running for and winning seats in state legislatures and city councils across the country, and that criminal justice reformers are winning all over the country, even if they ran into a setback on Tuesday.
The short-term goal is making the Democratic Party into an organ of viable opposition to Trump and the Republican Party—that is to say, an opposition whose leaders don't value "norms" and deficit reduction over people's lives. The long-term goal, which could take a generation or more, is a party where people like Bernie Sanders are in the dead center. Whether or not that'll ever happen remains to be seen. But if fundamentally moderate candidates keep getting hounded into backing progressive positions that give guys from your favorite centrist think tank heartburn, that's a pretty damn good start.