In the wake of Al Franken's resignation from the Senate over sexual misconduct allegations, three Democratic senators have called for Donald Trump to resign over the long list of women who have accused him of sexual harassment and assault.
Senator Bernie Sanders of Vermont tweeted after Franken's Thursday announcement that Trump should consider resigning:

On Sunday, Sanders reiterated his the sentiment of his tweet during an appearance on Meet the Press. "Al Franken felt it proper for him to resign," Sanders said. "Here you have a president who has been accused by many women of assault, who says on a tape that he assaulted women. He might want to think about doing the same."

Senator Cory Booker of New Jersey questioned why the allegations against Trump haven't carried the same weight as the allegations against Franken.
G/O Media may get a commission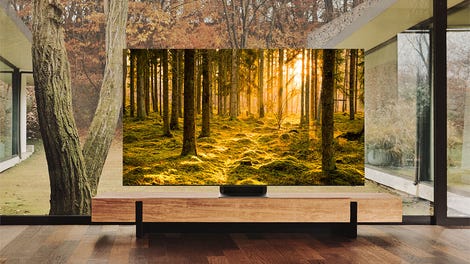 Up to 40% off
Samsung Smart TVs
"I just watched Sen. Al Franken do the honorable thing and resign from his office," Booker told Vice News on Thursday. "My question is, why isn't Donald Trump doing the same thing—who has more serious allegations against him, with more women who have come forward. The fact pattern on him is far more damning than the fact pattern on Al Franken."
Booker's comments were echoed by Senator Jeff Merkley of Oregon on Thursday. "The president should resign because he certainly has a track record with more than 17 women of horrific conduct," Merkley said on MSNBC.
While Booker, Sanders, and Merkley's calls for Trump's resignation are indeed valid, they also serve as a way to vindicate Franken's behavior. Both Merkley and Booker made a point of saying that Trump's allegations were far more severe than Franken's—which is true—but the insistence on comparing their accusers seems like an attempt to frame Franken as a scapegoat.
Also, these are merely symbolic demands. Calling for Trump to resign is about as effective as reporting him on Twitter for threatening nuclear war. His account will never be deactivated and he will never resign.