On Tuesday, the NRA blared that they'd dropped Montana Sen. Jon Tester's rating to a "D" solely because he voted against Brett Kavanaugh's Supreme Court confirmation, along with every other member of his party except Joe Manchin.

Tester is locked in a tight race for re-election, with polling showing him leading his opponent, Republican Matt Rosendale, by single digits. So Rosendale, who's aligned himself closely with President Trump—and earned his signature, boilerplate endorsement—quickly seized on that news.
Many Democrats would tout that D-rating as something to be proud of, in the same way that gun-wild Republicans like Ted Cruz tout their A-rating like a badge of honor. But this is Montana, a state that went for Trump by 20 points in 2016. So Team Tester's response was to remind the voters that sure, the senator voted against Kavanaugh, but he's also made a living killing the hell out of cows.
G/O Media may get a commission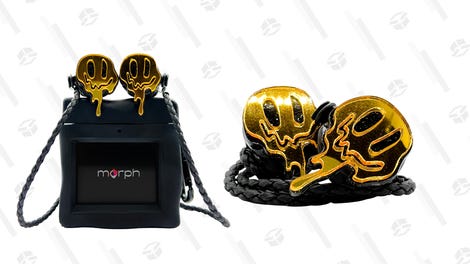 morph audio
Morph Earphones
He's shot and killed "hundreds" of cows and hogs! Incredible!
While people were having a field day roasting the hell out of that tweet, it proved a great reason to resurface the fact that there are no small number of videos on the internet of Tester pulling a less-humane Anton Chigurh on poor cows. (Skip ahead to around 4:15 to see Tester's boyish grin as he gets ready to go to town. Don't worry, the kill shot is mercifully edited out.)
What are we to take from all of this? Being a red state Democrat can be a dirty, dirty job, but someone has to do it, I guess.