Remember Roy Moore? The Republican Alabama Senate candidate who was accused of improper sexual conduct with several teenage girls, and who lost to Democrat Doug Jones in a special election last year? Well, it seems our old friend Roy is in the news again, thanks to some idiotic moves by Democrats who were desperate to make sure he didn't get into office, seemingly concerned that "he's probably a pedophile" wasn't a good enough angle.

Yesterday, tech billionaire Reid Hoffman apologized for donating $750,000 to American Engagement Technologies, a group that had ties to something called "Project Birmingham," an effort to help Jones win by using misinformation techniques, including creating fake evidence of a Russian bots supporting Moore's campaign.
Jonathon Morgan, chief executive of Texas-based research firm New Knowledge, has acknowledged being paid by American Engagement Technologies to experiment on a small scale with disinformation tactics, including creating a Facebook page that sought to appeal to Republicans who might not support Moore. Morgan has repeatedly denied that he attempted to affect the outcome of the election or that he had any role in the broader efforts of Project Birmingham. Facebook suspended his account as part of a crackdown earlier this month around "coordinated inauthentic activity" during the Alabama special election.
G/O Media may get a commission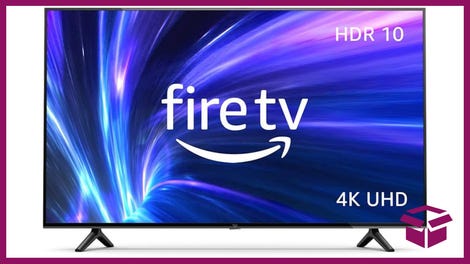 42% Off
Amazon Fire TV 50" 4K Smart TV
Alabama Attorney General Steve Marshall has announced that he's looking into whether these tactics violated campaign laws.
"The information is concerning," Marshall told the Post. "The impact it had on the election is something that's significant for us to explore, and we'll go from there."
Marshall, who is a Republican, said his office is gathering information about Project Birmingham, but did not announce an official investigation.

"We're planning to explore the issue further," Marshall said.
"I want to be unequivocal: there is absolutely no place in our democracy for manipulating facts or using falsehoods to gain political advantage," said Hoffman, who claims he was unaware of the efforts to support Jones with misinformation. He also promised to vet his entire portfolio of political investments.  
Jones has said he supports the efforts to uncover what happened during the election, and recommended that the the Federal Election Commission and the Department of Justice look into it.
"Illegal influence operations are a serious threat to our democracy, regardless of where these activities originate or who they seek to support," Jones told the Post.