Rep. Alexandria Ocasio-Cortez seems to be everywhere. Because of that, she's faced a steady stream of attacks by the right. But now, a whole slew of House Democrats have also come together to take a caucus-wide potshot at Ocasio-Cortez in Politico. Who said bipartisanship was dead?
For instance:
"I'm sure Ms. Cortez means well, but there's almost an outstanding rule: Don't attack your own people," said Rep. Emanuel Cleaver (D-Mo.). "We just don't need sniping in our Democratic Caucus."
I guess this is why House Democrats were criticizing Ocasio-Cortez in the Hill mere weeks after her primary win over Joe Crowley, offering such positive reinforcement as "She doesn't know what the hell she's talking about" and "Meteors fizz out" a full half-year before Ocasio-Cortez was even sworn into Congress.
The Politico story even features this anonymous comment from a self-described fellow progressive, which is particularly illustrative for how it shows what congressional Democrats really think about the activists they spend so much time praising (emphasis mine):
Even some progressives who admire AOC, as she's nicknamed, told POLITICO that they worry she's not using her notoriety effectively.

"She needs to decide: Does she want to be an effective legislator or just continue being a Twitter star?" said one House Democrat who's in lockstep with Ocasio Cortez's ideology. "There's a difference between being an activist and a lawmaker in Congress."

G/O Media may get a commission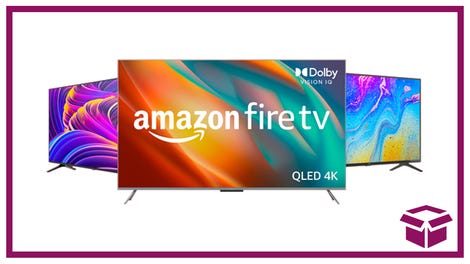 Ooh. stunning.
New Amazon Fire TVs
Ocasio-Cortez's chief of staff had particular criticism of this comment:
Democrats reserved their most intense frustration for Ocasio-Cortez's insistence that conservative Democrats should face primary challenges, which, yeah, agreed. Last month, after fellow New York Rep. Hakeem Jeffries was elected the chair of the caucus in November over longtime California Rep. Barbara Lee, whom Ocasio-Cortez supported, Politico published a story alleging that Jeffries was Ocasio-Cortez's "highest priority" primary target in 2020. She denied it, but some Democrats are still salty regardless:
"The chances that the Democratic caucus will stand by and watch its chair get attack and people piling on him — by Democrats! — is so obscene that I think you'll find one of the strongest reactions that could possibly be anticipated," Cleaver said.

Rep. Gregory Meeks (D-N.Y.) said he's taking Ocasio-Cortez at her word that "she wants to work with everybody," as he said she told him. Meeks and other members of the New York delegation intend to nominate Ocasio-Cortez to serve on the Financial Services Committee, an exclusive panel, early next week.

"It's one thing" for outside activists to go after Democratic incumbents, Meeks said. "It's another thing when you're in this institution and you've got to work to get things done."
Considering it took a total of eight days of her being in Congress for this story to drop—even Ted Cruz got to be in Congress for months before Republicans started openly sniping at him—it's safe to say we're going to see many of these stories over the course of the next couple of years, as Ocasio-Cortez's star continues to rise in a party whose leaders are both aging and ill-equipped to fully confront the cryptofascist turn that the GOP has taken in the Trump era.
What's especially interesting is how these Democrats have come to view the idea of pulling the caucus to the left via primaries as a personal attack, rather than a pragmatic solution to pass progressive policy. Ocasio-Cortez wants Medicare for All and a Green New Deal. There is a significant chunk of the House Democratic caucus that does not want that, not to mention the entire Republican Party. If the fundamental argument of progressives is that Democrats can only build a lasting power base by promising and then following through on good things, it tracks that you would want to remove every obstacle possible to those good things!
Regardless, Ocasio-Cortez is going to continue to piss off other Democrats who think she should wait her turn, but as one particularly illuminating comment showed, it's also rooted in fear. "People are afraid of her," one Democratic aide told Politico.

Good.