This week, Senators Lindsey Graham, R-S.C., and Dick Durbin, D-Ill., went to the White House to discuss immigration policy with President Donald Trump. When they arrived, they were surprised to see hardline anti-immigration Congress members Rep. Bob Goodlatte, R-Va., and Sen. Tom Cotton, R-Ark., also in attendance. The president's staunchly nativist senior policy adviser, Stephen Miller, had invited them, specifically to prevent a "too liberal" deal from being negotiated at the meeting.
He needn't have worried.
The national news that came out of that meeting is that the president made vulgar and racist remarks about black and brown people from poor countries, which he referred to as "shitholes," while asking why the United States shouldn't instead prioritize the immigration of Norwegians.
More news that came out of that meeting, though you'd be forgiven for not noticing it, is that Congressional Democrats are willing to sign on to the thrust of Trump's policy preferences, if not his entire agenda. Durbin was pitching a "compromise" in which Democrats would agree to restrict legal immigration, more or less along the lines Trump prefers. As The Washington Post explained:
Sens. Lindsey O. Graham (R-S.C.) and Richard J. Durbin (D-Ill.) had proposed cutting the visa lottery program by 50 percent and then prioritizing countries already in the system, a White House official said.
G/O Media may get a commission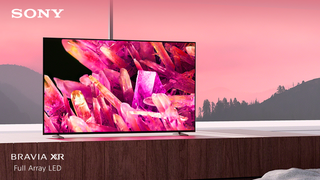 $400 off
Sony 55 Inch 4K Ultra HD TV X90K Series
This is what led to Trump's outburst: They were haggling over which undesirable peoples to exclude.
Miller—and, officially, the White House—wish to end the diversity visa lottery entirely and change our immigration policy to be "skills-based," which would also have the effect of sharply reducing legal immigration into this country by as much as 50 percent. There are various justifications for this policy, economic and otherwise, but they mostly boil down, as Trump usefully demonstrated, to trying to protect the white population from demographic obsolescence of the sort feared by those "very fine people" in Charlottesville.
Congressional Democrats have—apparently—already accepted that Trump's position is acceptable, even if they are uncomfortable with the language used to argue for it. Not all of them, of course. But many of the most important ones, as The Politico reported earlier this week. A group of five lawmakers, including Durbin and Sen. Bob Menendez, D-N.J., have been negotiating a plan that curbs legal immigration along exactly the lines Trump and Miller wish to see it restricted. (Emphasis mine.)
To address conservative concerns about "chain migration," the senators are proposing that undocumented parents who brought a child to the United States illegally would not be able to access a pathway to citizenship based on being sponsored by their children, said Sen. Jeff Flake (R-Ariz.). But the parents of Dreamers would be able to obtain a three-year provisional legal status that could be renewed, Flake said.

"We've got to get to 60 votes. In order to get 60 votes, you've got to get a bipartisan bill," Flake said. "I don't see any other game in town."

Some of the fiercest Democratic resistance to the emerging plan is coming from members of the Congressional Black Caucus, who are among the biggest proponents on Capitol Hill of the diversity visa lottery. The program doles out green cards for people from countries with lower rates of immigration to the United States, so it covers a lot of African and Caribbean immigrants.

Senators are considering effectively nixing the lottery and reallocating those visas to a separate program being terminated by the Trump administration aiding immigrants from countries facing natural disasters or civil strife.
That this is now being put together as a bipartisan "compromise" plan is a huge shift.
At some point, the Washington debate shifted from whether and how we will find some path to legal residency or citizenship for persons currently living here without either—the bipartisan consensus goal, opposed only by hardline right-wingers, from approximately the end of the Clinton presidency up through Trump's inauguration—to whether and how we will change our immigration laws to restrict future immigration through official channels. The contours of those proposed restrictions are now the topic of discussion, though it is broadly agreed that the types of the immigrants to be excluded are largely the ones from countries Trump refers to as "shitholes."
This is why, when Durbin condemned Trump's remarks, he didn't actually condemn the idea of curbing "chain migration," an inharmonious term for a policy designed to let Americans bring their families to live with them. What he did instead was make up a nonsense reason why Trump shouldn't use that term:
Because Durbin agrees, or is willing to vote like he agrees, with Trump on the necessity of restricting family sponsorship in immigration.
Democratic leadership has completely conceded, rhetorically and politically, that this is now the "middle ground." The fact that hardliners would prefer an even more extreme policy is all the justification they need. Seriously, this is their rationale (from The Politico):
Key Democrats are sympathetic to the furor from their left flank but aware something needs to pass Congress that can win Trump's signature. Senate negotiators believe their emerging agreement — which they say they're getting close to finalizing — will lose votes from the right and left, representing true concessions from both parties.
"Both Tom Cotton and the Congressional Black Caucus will oppose our deal, so it is, by definition, bipartisan." This is how a far-right policy becomes centrist, in less than a year. And this is how Democrats are negotiating with a historically unpopular president, in a midterm election year, on an issue on which they held an immense amount of leverage just a month ago.
Democrats like Durbin may be genuinely offended at Trump's profane assessment of certain people who wish to become Americans, but they'll still give him most of what he wants, in the name of compromise.