Hillary Clinton is still making money off her failed 2016 presidential campaign by charging the Democratic National Committee to use her valuable email list—a move that's rankling state and local party officials, who say Clinton should donate the list and return the DNC's money.

As the Intercept reported last week, the DNC reached a deal with the Clinton campaign to pay $1.65 million for access to the campaign's email list, its voter data, and software produced by Hillary for America during the campaign. So far, the DNC has paid more than $700,000 to rent the campaign's list.
Nancy Worley, the chair of Alabama's Democratic Party who supported Clinton in 2016, told HuffPost that Clinton "should return the money for the 'love of the Democratic Party' to the DNC for its use." Martha Laning, the chair of Wisconsin's Democratic Party, and Missouri Democratic National Committeeman Curtis Wylde also called for Clinton to retroactively donate her list and return the DNC's payments.
Brian Wahby, an at-large member of the DNC, told the site that Clinton retroactively making her campaign resources an in-kind contribution "would be a Christian thing to do," but stopped short of calling on the former secretary of state to return the money.
Nick Merrill, a Clinton spokesman, defended the arrangement in a statement to Fox News, saying the DNC has already reaped huge rewards from the list.
G/O Media may get a commission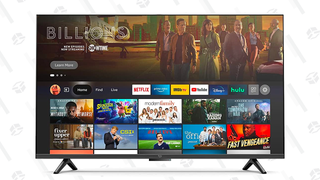 22% off
Amazon Fire TV - 50" Omni Series 4K - Early Access Deal
"Paying a rental fee for use of an email list is common practice, and in this case the DNC has raised over $30 million with it, an 1,800 [percent] return on their investment," Merrill wrote.
He also said: "She was the first presidential candidate in decades to leave the DNC in the black after a Presidential cycle. The campaign turned over an unprecedented amount of campaign data and resources."
Clinton's relationship to the DNC has been a source of controversy for months since former party chief Donna Brazile revealed in a book last year that the DNC had yielded virtually all its fundraising power over to the Clinton campaign, which in turn offered the struggling state parties little and left the DNC almost flat broke. At the time, Team Clinton contended that Barack Obama—who, for what it's worth, donated his own valuable email list to the DNC as an in-kind contribution in 2015—left the party more than $20 million in debt, and that their cash infusions were keeping the party on life support.
Something tells me the Democrats shouldn't plan on seeing that money again anytime soon.