The House of Representatives voted on Tuesday to roll back parts of the 2010 Dodd-Frank financial regulations implemented in the wake of the recession. The bill—which whittles down consumer protections—passed 258-159, with help from 33 Democrats, before President Trump signed the bill on Thursday.
Perhaps not shockingly, many of the Democrats who voted for the bill that will benefit banks both large and small received considerable campaign donations from the financial sector. According to an analysis by campaign finance reporter Donny Shaw, Senate Democrats, 16 of whom voted for their own version of the bill, on average received more than four times as much money from commercial banks than Democrats who voted against the bill.
That trend also carried for the House Democrats who backed the bank deregulation bill on Tuesday, as Shaw writes:
According to my analysis of campaign contributions in the current election cycle, Democrats in the House that voted for the bill received, on average, a little more than $20,200 from the commercial banking industry. The Democrats that voted against it received just about $7,200 from the industry, on average.

Two House Democrats stand out for having taken especially large sums from the banks this cycle — Krysten Sinema ($115,472) and David Scott ($70,750) — and both voted for the bill.
Sinema has received donations from PACs of banks that will be deregulated under the bill and trade groups that lobby for them, including the Mortgage Bankers Association ($15,000), Synchrony Financial ($10,000), American Bankers Association ($10,000), and Consumer Banker Association ($7,500). David Scott has also received contributions from banks that will benefit, including Credit Suisse ($10,000), Regions Financial ($10,000), SunTrust Banks ($10,000), UBS ($7,500), Barclays ($5,500), and more.
All told, Sinema received more than $1 million from donors in the financial sector during the 2016 election cycle. Last month, she also voted to weaken the Volcker Rule, which prohibited banks from making speculative investments using their customers' money. (Splinter has reached out to Sinema's office for comment. We'll update this post if we hear back.) Democrats who supported this spring's slate of bank deregulation bills have argued that they will provide relief to smaller "community banks," while keeping regulations on larger Wall Street banks in place—claims have not held up very well under scrutiny.
On the flip side, some House Democrats who received significant donations from the financial sector voted against the bill. New York Representative Carolyn Maloney, who represents parts of Manhattan and Queens in Congress, received $46,900 from the commercial banking industry this election cycle. She voted against the bill on Tuesday—a decision perhaps influenced by the fact that she is facing a competitive primary challenge from Suraj Patel.

G/O Media may get a commission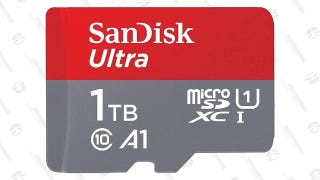 Save $70
SanDisk Ultra 1TB MicroSDXC Card
As long as Citizens United remains the law of the land—and until Democratic voters successfully scare their representatives into shifting further left—this is exactly the type of governance we can expect.