Texas Gov. Rick Perry (R) isn't letting his indictment on public corruption charges slow down his quest for higher office.
The potential 2016 presidential candidate traveled to Washington Thursday, where he blasted the charges as an "attack on our system of government."
"I am very confident in my case," Perry said during an appearance at the conservative Heritage Foundation.
"These are fundamental principles that are very important," he added. "Namely, a governor's power to veto legislation and funding and the right of free speech."
Perry pleaded not guilty this week to two felony corruption charges stemming from allegations that he abused his gubernatorial powers and attempted to coerce a public servant. Perry last year vetoed funding for a state anti-corruption unit after a Democratic district attorney refused to resign following her guilty plea to DWI.
G/O Media may get a commission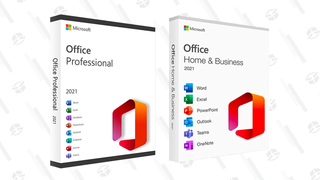 89% off
Microsoft Office Professional 2021 Lifetime License
But Perry has been defiant since the indictment was handed down, calling it a politically motivated attack from Democrats. On Thursday, he once again noted that liberals like former Obama adviser David Axelrod and columnist Jonathan Chait have criticized the legitimacy of the charges.
Even Perry's grinning pose in his mugshot exudes an air of confidence.
The charges against Perry are serious; the abuse of power charge carries a potential prison sentence of five to 99 years. The governor, however, is moving full steam ahead with his political schedule.
In addition to Perry's speech in Washington, he is scheduled to make a two-day visit to New Hampshire starting Friday and will headline a fundraiser in South Carolina next Wednesday. Both stops represent crucial early presidential primary states.
Speaking before a friendly crowd at the Heritage Foundation, Perry urged President Obama to escalate U.S. military efforts against the militant group Islamic State of Iraq and Syria (ISIS) and blasted his handling of immigration policies and border security.
Perry called for a "sustained air campaign to degrade and destroy ISIS." Asked whether traditional ground troops should be sent back to Iraq, Perry said that "all your options need to be open."
Perry's remarks were supposed to focus on border security and immigration, but he unexpectedly spent much more time discussing the Middle East. Still, he found time to accuse Obama of ignoring the federal government's responsibility to secure the border. Despite the lack of "clear evidence," Perry even suggested that there is a "very real possibility" that terrorists from ISIS and other groups could have infiltrated the U.S. through the southern border.
"[Securing] the border is not a political option, it is a constitutional obligation," Perry said.
Perry argued that Obama was guilty of abusing his presidential power by extending deportation relief to young undocumented immigrants in 2012 and that legalization or comprehensive reform of any kind should not be considered until the border is deemed secure.
"All talk of immigration is pointless because Washington has no credibility on the matter," Perry said.
Jordan Fabian is Fusion's politics editor, writing about campaigns, Congress, immigration, and more. When he's not working, you can find him at the ice rink or at home with his wife, Melissa.