A group of immigration attorneys in Oregon say their 21-year-old client was picked up by immigration officials on Sunday and is now locked up without his wheelchair and medication to control his bipolar disorder.
Federal immigration officials on Sunday detained Emmanuel Ayala Frutos at his home in Portland. Agents reportedly went to his home without a warrant and got him to open the door by claiming they were there to discuss his DACA status, his attorneys say. U.S. Immigration and Customs Enforcement (ICE) officials arrested Ayala Frutos shortly thereafter.
Frutos' family says they are especially concerned because their son was hospitalized twice in 2016 for mental health illnesses. His attorneys on Thursday afternoon could still not confirm he's getting any medication.
"This is an awful, inhumane case," Mat dos Santos, legal director of the American Civil Liberties Union of Oregon, said in a statement.
He was also recently discharged from a local hospital following a six-week stay after being struck by a car while riding his skateboard. Both his legs were broken and he underwent surgeries, according to his attorneys.
G/O Media may get a commission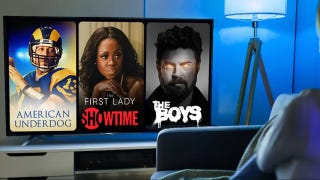 UNDER $1
99¢ Prime Video Channels
Frutos arrived in the United States at the age of six from Michoacan, Mexico. In 2013, he was granted Deferred Action for Childhood Arrivals (DACA), the federal program that provides some young immigrants a temporary work permit and protections from deportation.
Attorneys say Frutos was in the process of renewing his DACA, which had expired two weeks earlier.
ICE spokesperson Rose Richeson said Frutos was targeted for immigration enforcement based on a prior criminal conviction.
Frutos faced a judge in Clark County, Washington, last month for possessing and showing a butterfly knife in November 2016.
"The judge found that because of the circumstances of the incident and because it was his sole offense, he was not a danger to the community," his attorneys said in a statement by published by the ACLU of Oregon on their website. They note he has since completed an anger management program, attended all his court dates, and required meetings.
Richeson did not respond directly to questions about whether Frutos is getting his medication, but said generally all detainees receive medical, dental, and mental health intake screenings with "qualified health staff to identify any known medical conditions." She said medications can be ordered through an onsite pharmacy.
Frutos' arrest is one of at least five cases this year in which ICE has detained a DACA beneficiary or individual renewing their application—even though President Donald Trump has said "these incredible kids" are a low priority for enforcement.
Immigration officials have maintained DACA may be revoked any time the agency deems someone is a public safety threat. The Department of Homeland Security has terminated the program for 1,500 recipients since it was implemented in 2012.
Frutos is currently being detained at the Northwest Detention Center, a prison operated by a private company in Tacoma, Washington. He will remain there until the outcome of his deportation proceedings.