Yet another pregnant woman has come forward saying she was shackled in immigration detention. Monserrat Ruiz Cuevas, an asylum seeker from Mexico, says she miscarried a day after tripping on chains that were used to shackle her en route to the hospital.
Last month, Ruiz was "tightly shackled in full arm, waist, and leg restraints" when she "fell hard onto metal stairs" and was unable to break her fall, according to a letter from the American Civil Liberties Union to Immigration and Customs Enforcement (ICE).
Doctors have warned that shackling pregnant women is dangerous for both the mother and the unborn child. But the account is particularly troubling because immigration authorities have said for years that they no longer shackle pregnant women or even detain them absent "truly extraordinary circumstances."
ICE, however, has demonstrated a less-than-perfect record of following its own rules. Last year, a Fusion investigation found that the agency detained nearly 600 pregnant women in six facilities over a two-year period. This discovery came months after an agency spokesperson told Fusion they didn't keep track of how many pregnant women were behind bars because the agency "won't detain" pregnant women. Another spokesperson also initially denied a miscarriage occurred in an El Paso facility in 2013. Fusion later obtained medical records proving that it had.
G/O Media may get a commission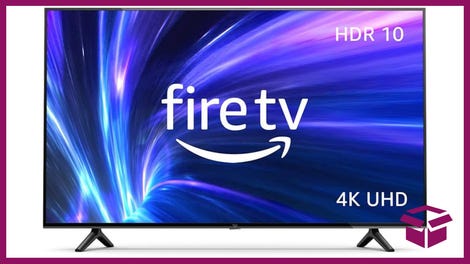 42% Off
Amazon Fire TV 50" 4K Smart TV
Immigration authorities said they are conducting a "thorough review" of the case to determine "if the actions taken were in accordance with the agency's policies and procedures." Spokesperson Virginia Kice wrote in an email that although the "inquiry is still ongoing, ICE's preliminary review of documentation and witness statements associated with this case indicate many of the allegations are unsubstantiated."
A spokesperson for GEO Group, the private prison company that operates the facility in which Cuevas was detained, wrote in an email that the company has "already implemented additional measures and procedures to ensure that policies related to the use of restraints are properly followed, including in cases when a pregnancy may not be immediately known."
The ACLU says that Ruiz has no criminal background and was fleeing violence in her home country. Lawyers also allege that the agency was aware that Ruiz was pregnant and knowingly shackled and detained her for weeks against policy.
Lawyers at the ACLU are demanding that all detention center staff be better trained in issues of women's health.
"One woman has already suffered the devastating loss of a child while in ICE custody," wrote the ACLU's Katie Traverso and Michael Kaufman.  "No others should be forced to endure such horrors."
Cristina is an Emmy-nominated reporter and producer. She recently won an Alfred I. duPont-Columbia University Award for her documentary Death by Fentanyl. She attended Yale University and has reported for the New Haven Independent, ABC News, Univision, The Huffington Post, and Fusion.