Fewer cops are patrolling Detroit's streets than at any other time since the 1920s. According to police data obtained by the Detroit News, the city now employs only 1,590 officers, leaving the department understaffed in the most violent city in the U.S. That's down from 3,139 in 2000, and closer to the number of officers the city had before it increased its ranks to fight Prohibition bootleggers.
"This is a crisis, and the dam is going to break," Mark Diaz, president of the Detroit Police Officers Association, told the News. "It's a Catch-22: I know the city is broke, but we're not going to be able to build up a tax base of residents and businesses until we can provide a safe environment for them."
Recent budget cuts in the formerly bankrupt city have forced the department to shed hundreds of officers. Meanwhile, some of the city's finest have left to find better-paying jobs: After taxes and deductions for pensions and other benefits, most officers only take home $8/hour.
Making the problem worse, the officers' contract includes a bizarre provision allowing cops to "go home sick" after four hours on the job and still be paid for a full day without using a sick day. Diaz said that was used by officers exhausted after double shifts.
G/O Media may get a commission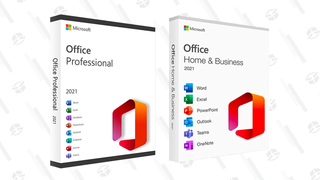 89% off
Microsoft Office Professional 2021 Lifetime License
There's hope for growth in the future: As the city exited bankruptcy last year, part of its recovery plan included raising the police department's $315 million budget to $429 million by 2018. The city's population is also smaller than in past decades, so the officer-to-citizen ratio isn't as low as it once was.
Detroit has the highest rate of murder and violent crime in the U.S., with a homicide rate of 45 per 100,000 people. It's already seen several big shooting incidents this summer.
"You very rarely see a marked car drive by," Ray Rutyna, who lives on the city's east side, told the News. "They'll come if something happens, but you don't see them patrolling much. It's too bad, because we need them over here."
Casey Tolan is a National News Reporter for Fusion based in New York City.