Devin Nunes, the Republican representative from California, and the House Intelligence Chairman, spent $15,000 of his campaign donations on tickets to Boston Celtics basketball games (despite living in Southern California), and even more on winery tours and trips to Las Vegas, according to reports from the Federal Election Commission and watchdog groups.

McClatchy writes:
His PAC also spent about $42,741 since 2013 on catering, site rentals, hotels and meals in Las Vegas. The most recent instance was March 9, when the PAC spent $7,229 at seven different restaurants and hotels in Las Vegas.

On June 19, the PAC's expenditures included nearly $5,000 spent at six wineries in Paso Robles and Santa Margarita, both outside his district in California, and about $5,000 to Gold Coast Limousine the same day. [...]

All Boston, Vegas and winery charges were listed as fundraising expenses.
When confronted about these charges by McClatchy in DC, Nunes responded, "I wish I could help you." No Devin, we wish we could help you. Your corruption game is seriously lacking! If you're going to blatantly use PAC money for personal expenses, at least buy a midlife crisis car, or maybe "go" on a "hike" of the "Appalachian Trail."

Leadership PAC money is meant to be a way for members of Congress to donate to other political campaigns, but the reality is that politicians often use the money for other purposes. A report by the nonpartisan watchdog group Campaign Legal Center and Issue One, out today, looked into some of these expenditures.
Brendan Fischer and Maggie Christ, the report's authors, estimated that on average over the past three election cycles 45 percent of money given to leadership PACs actually went to other candidates or political committees.

Nunes has a slightly better rate than average, with 52 percent of New PAC's spending going toward campaign contributions.

"They'll say these are fundraising events, or say it coincided with a fundraiser, where they raised more money with donors," Fischer said. "But at what point are they effectively raising money just to fund their next fundraiser?"
G/O Media may get a commission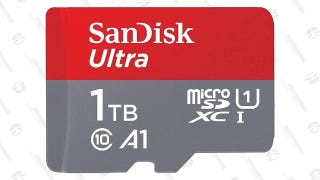 Save $70
SanDisk Ultra 1TB MicroSDXC Card
Though using PAC money for personal expenses is banned by the House Ethic Committee, it's rarely punished. The Federal Elections Commission doesn't have a policy on the personal spending of PAC money.
Nunes has been busy recently. Recently, he's been in the spotlight for his attempts to derail Special Counsel Robert Mueller's Russian collusion investigation, for starting his own website to combat fake news, and as a player in that whole Democratic memo fiasco. Devin, it's time to take some time off. Why not go to a Celtics game?