PROVIDENCE, R.I. — Diane walks into the liquor store, the bell over the entrance softly jangling as she grabs herself a cart. The store clerk spies her strolling towards the wine in her crushed marsala velvet dress, ankh and inverted triangle necklaces dangling over her clavicle, and tells Diane how "brave" she thinks she is. Diane peeks out from under her reflective sunglasses and smiles back, saying, "It's hard being a pagan priestess in this crazy world!"
The brief exchange from Diane from the Moon—a short film directed by French filmmakers Hanna Ladoul and Marco La Via that premiered Thursday night before a screening of feature-length documentary Jewel's Catch One at the Rhode Island International Film Festival—ends on a surprising note. At least, it did for me. When I heard the store clerk (Emma Thatcher) call Diane (Mya Taylor) "brave" for simply stocking up on some cabernet, I assumed the character was offering an unsolicited and patronizing opinion about a trans person's life. And maybe she was! But Diane quite literally flips the script with her response, recentering the film's narrative on its titular character's perspective instead of whatever the store owner imagined it to be.
The back and forth also echoes the offscreen mission of the star. Mya Taylor, who became the first openly trans actress to ever win an Independent Spirit Award (and a Gotham Award and…) thanks to her breakthrough role in last year's Tangerine, is determined not to let Hollywood pigeonhole her based on first impressions. That's an uphill battle for any actor trying to make it in the film industry, much less one who rarely finds herself represented onscreen to begin with, but Taylor held firm in her conviction when I spoke with her over the phone last week. "I don't want to continue to do the same shit over and over," she told me, a couple of hours before Diane from the Moon's world premiere. "A lot of Hollywood stars are known for one thing, and that's what they keep getting offered. I don't want that."
Diane from the Moon finds Mya slipping into the role of Diane: a self-described pagan priestess who checks into a glamorously midcentury Palm Springs motel to sage her life after abruptly breaking things off with her lover, Alice. Throughout her stay, she is haunted by a gruff, buckle-belted man known only as Tex (Travis Johns), who alternates between aggressively hitting on her and hurling transphobic slurs upon being rebuffed. Diane eventually stands up to Tex—whom the film reveals to be something other than what he seems—and finally finds peace and acceptance within herself.
G/O Media may get a commission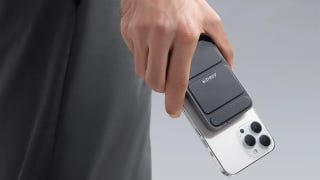 15% off
15% off Anker Top Ten Products
Take charge
Treat yourself to a portable power bank, a magnetic wireless battery for iPhones, or even a solar generator. There is a reason these are in the top ten. For instance, the Anker 747 Power Bank is a 4-in-1 charger utilizing USB-A and USB-C to be capable of charging up to four devices at once. Great to take with you when traveling and in need of keeping your phone, laptop, and even Nintendo Switch powered on.
While Alexandra, Taylor's character in 2015's Tangerine, plays the levelheaded yin to Sin-Dee's (Kitana Kiki Rodriguez) more short-fused yang, Diane gives the 25-year-old actress room to explore a different side of soft-spoken. The character spends much of the sparsely populated short film in her own head, and Mya—whom directors Ladoul and La Via described as an energetic, hard worker who's "always up for another take"—conveys her character's wordless vulnerability beautifully.
Diane from the Moon is Mya Taylor's first film role after Tangerine, which culminated in the first-ever studio-backed Oscar campaign for a trans actor of any gender, but it is far from her last. She plays Stonewall revolutionary Marsha P. Johnson in Happy Birthday, Marsha!, a short by filmmakers Reina Gossett and Sasha Wortzel that's currently in post-production. Mya will also play a lesbian in a relationship with another transgender woman in the pre-production Viva Diva, and she has been cast in Myra, director Christopher Baiza's upcoming feature about two trans sex workers who find themselves at opposing points of an unwelcome love triangle.
"My character in Myra is not like my Tangerine character at all," Taylor told me over the phone from the North Dakota home she shares with her husband, James. "Joy, my character, doesn't take shit from nobody. This role is so much darker and so much more aggressive. I'm so much more of a bitch!"
Mya would sporadically step away from the phone over the course of our 30-or-so-minute conversation to continue doing what she was doing before I'd called: washing her car—a Jaguar, she said, that she'd bought herself the day after her 25th birthday back in March. She told me that she'd recently driven "this damn car" about 3,200 miles from North Dakota to Los Angeles and back to get her name and gender markers changed on her driver's license and other legal paperwork. She said that she put up with those "23 hours of driving nonstop," both ways, because it's easier—not easy, just easier—to do so in California than in her full-time state of residence.
"When I'm really motivated and dedicated to do something, I get it done," she said.
Bad at filling out bios seeks same.