Last week, Starbucks announced that it will shutter all remaining La Boulange stores by the end of September. In a statement, the coffee retailer said that doesn't mean it is severing ties completely with the bakery:

"The La Boulange brand will continue to play a significant role in the future of Starbucks food in stores, and the company looks forward to serving delicious La Boulange food at its Starbucks retail locations in San Francisco and across the U.S. and Canada. The Evolution Fresh retail location in San Francisco will also close."
This is not the first time that Starbucks has run into problems with its extra-coffee enterprise. Back in 2006, Starbucks started serving breakfast sandwiches across the country (it had rolled out hot sandwiches in a few locations in 2003). Chicagoist wrote at the time that that the chain introduced five new, hot sandwiches to the menu, all variations on the classic egg on a roll. Just two years later, Starbucks shut it down.
The New York Times reported in 2008 that Starbucks was nixing the sandwiches because, as CEO Howard Schulz explained, "the scent of the warm sandwiches interferes with the coffee aroma in our stores." Therein lies the rub. When Starbucks sells coffee and snacks, Starbucks stores smell like coffee. That is its signature scent. When Starbucks sells coffee and snacks and hot food, Starbucks stores smell like hot food. That is not Starbucks' signature scent. (Also, they may have been bad.)
So, as of 2008, Starbucks was out of the fragrant food business, until it announced that it had acquired beloved San Francisco bakery La Boulange, in 2012. Reuters reported it as Starbucks' "biggest move yet outside coffee," adding that it "takes direct aim at what long has been seen as the company's biggest weakness: food."
And, by Starbucks' account, the acquisition has proved successful. In announcing its decision to shut down free-standing La Boulange locations, the company pointed out how well the acquisition has worked out for Starbucks stores.
G/O Media may get a commission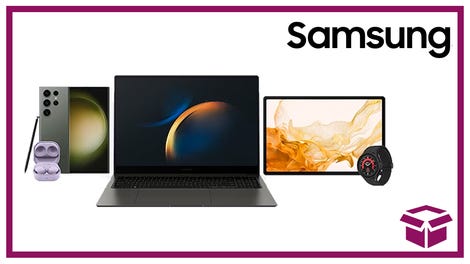 24 hour deals
Discover Samsung - Daily Deal
Bloomberg noted in 2014, the Starbucks was able to again focus on the hot breakfast sandwich — a top priority for the company since breakfast-selling fast food joints have also started selling fancy coffee. Per Bloomberg:

"Today marks the debut of four new breakfast sandwiches: ham and swiss on a croissant; spinach, sun dried tomatoes, and cheese on ciabatta; egg and cheddar on toast; and a lower-calorie egg white, bacon, and cheese on English muffin…. With about half of Starbucks's sales are made before 11 a.m., the new salvo of sandwiches comes at a time when the coffee chain is trying to defend its turf from increasingly aggressive rivals."
This time, apparently, the scent of the sandwich wasn't overpowering. Starbucks wrote in the La Boulange  press release that sandwich sales are going swimmingly, and didn't mention a downside:

"Sales of Starbucks new breakfast sandwiches have contributed a noteworthy 35 percent year-over-year growth in the breakfast platform. And, the company's lunch platform delivered double-digit year-over-year gains. Starbucks has successfully delivered an up-leveled food experience with the roll-out of La Boulange products in its U.S. and Canada stores, which have been well received by customers."
Starbucks' growth, coupled with its difficult history with serving breakfast foods, makes it hard not to see the acquisition of La Boulange as little more than a way to get hold of the bakery's recipes. Adweek spoke to Darren Tristano, of the restaurant consulting company Technomic, about Starbucks likely motivation for buying La Boulange. He said "… if you look back to the beginning, it didn't really sound like we were going to see them growing La Boulange. It seemed like they were going to learn from it."
Starbucks responded to Fusion's request for comment with a link to its statement on La Boulange.
AdWeek points out that its not unreasonable (or particularly unusual) for a company to invest in a company it ultimately plans on shuttering—the purchase of La Boulange for $100 million paid off several times over, judging by Starbucks' second-quarter revenue of $778 million.
Meanwhile, might we suggest Starbucks' next investment be in a Frappuccino recipe developer.
Danielle Wiener-Bronner is a news reporter.