The search for the people to star in Disney's live-action remake of Aladdin has been a massive global undertaking—one that has reportedly yielded little success. About 2,000 people have auditioned for the roles of Aladdin and Jasmine, according to the Hollywood Reporter. Disney has also reportedly brought in casting directors from all over the world, including India, Abu Dhabi, London, and Egypt.
We received an outpouring of comments after posting our story gently telling Disney that it's doing something wrong if it's this hard to cast this movie. But we also received a couple emails from people who have auditioned or wanted to audition for a role in the film. And that got us wondering: Are you one of the 2,000 people who tried to get these parts?
If you are, we want to hear your story. What was it like? What did they make you do? What feedback did you receive? Was director Guy Ritchie there talking about how hard it was to find an Indian actor who could sing? Are they keeping the questionable lyrics from the original? Tell us everything. You might see your story in a followup post.
You can slide up in the comments, or email me directly at anne.branigin-f@fusion.net. If you know someone who has auditioned, share this post with them. And remember, we can keep you anonymous if you want.
G/O Media may get a commission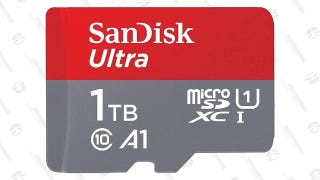 Save $75
SanDisk Ultra 1TB MicroSDXC Card
Remember, it's only through awareness that change happens. So get in touch. Together, we can help save Aladdin.
A reminder of what we're trying to salvage here: