Splinter has obtained Republican Rep. Bob Goodlatte's version of Savanna's Act, the bill meant to address the mind-numbing rates of violence against Native women, after he reportedly stalled that legislation. It is a shell of what should have been an easily passed and monumental piece of legislation, to say the least.
As the House winds down its 115th Session, the eyes of Indian Country have been firmly on Savanna's Act, or S. 1942, which was introduced by Sen. Heidi Heitkamp; it was initially designed to train and incentivize law enforcement to better handle cases of murdered and missing Indigenous women. The bill passed the Senate unanimously in mid-November.
However, the bill hit a snag in the House. As an aide told the Huffington Post on Monday, Goodlatte, chair of the Judiciary Committee, had "issues with the language." As the House is expected to wrap its session this week, any delay in the bill being placed on the calendar would mean Savanna's Act would have to wait for the next session, when it would have to go through the entire legislative process again before becoming law. Until today, those were all the details available.
G/O Media may get a commission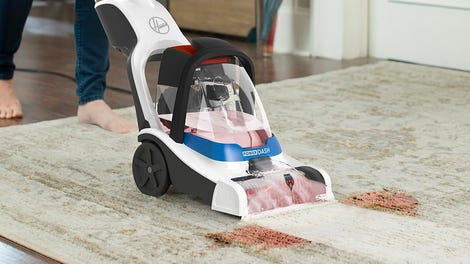 26% Off
Hoover PowerDash Pet Compact Carpet Cleaner
A source provided Splinter with the Virginia congressman's version of the bill early Thursday afternoon; to put it simply, based on his alterations, the Virginia congressman has little interest in materially changing law enforcement practices, even to potentially save the lives of thousands of Native women. Goodlatte's office did not respond to Splinter's request for comment.
Based on the draft legislation provided to Splinter by a source closely involved in deliberations around Savanna's Act, Goodlatte's version removes the accountability clauses carved out for law enforcement. Whereas Heitkamp's version would have required the U.S. Attorney General's office to "disclose and publish" the names of law enforcement agencies that did not adhere to the guidelines found in Savanna's Act, Goodlatte's would remove that requirement entirely.
Goodlatte's edits also take aim at the "compliance" section, essentially the teeth of Savanna's Act. Goodlatte's version excised all of Section 5, Subsection C, Notes 3-6—this included a directive to the U.S. Attorney General to "determine whether each Tribal, State, and local law enforcement agency has incorporated guidelines into their respective guidelines, policies, and protocols." Goodlatte's version would also remove the act's call to incentivize the law enforcement grant program to favor those agencies that complied with the new guidelines.
These stipulations essentially end all progress on the bill, as ceding to Goodlatte would mean removing any means of the federal government making sure local police are following the law. The bill could still be placed on the suspension calendar, reserved for non-controversial legislation, if House Majority Leader Rep. Kevin McCarthy or House Speaker Rep. Paul Ryan override Goodlatte's decision. Neither McCarthy or Ryan's offices returned Splinter's requests for comment.
Being a staunch opponent of the Native community is not exactly new territory for Goodlatte—he was long a critic of granting federal recognition to six Virginia tribes solely on the grounds that he didn't want the Native gaming community in his state. When the tribes finally did gain federal recognition in May, he used his official statement to boast about getting a gaming prohibition clause in the final legislation.
A spokesperson for Heitkamp offered this statement to Splinter when reached for comment:
House Republicans have a chance to take action on a really important issue – the crisis of missing and murdered Native American women. If you talk to almost anyone in Indian Country in North Dakota, almost everyone knows someone who has gone missing or been murdered. It's horrifying. If that was the case across the entire country, there would be a national call to action to address this issue. But it's hidden in tribal communities. No more. I will not let that continue to happen. We are so close to getting Savanna's Act across the finish line and we must make sure these women are no longer invisible. Rep. Goodlatte and House Republicans should trust the 100 senators who helped pass my bill two weeks ago in the Senate so it can pass in the House in the next two days and we can get it signed into law. That's what Native communities deserve.
Gloria Allred, the attorney representing the family of Savanna Greywind—the pregnant 22-year-old North Dakota woman and member of the Spirit Lake Nation who was murdered in 2017 and is the bill's namesake—castigated Goodlatte for preventing the bill's passage in a statement to the site Inforum.
"It is an insult to Native American women that a member of Congress would try to block this important bill," Allred said. "A member of Congress who attempts to prevent the bill's passage is demonstrating that he doesn't care about the important problem of violence against Native American women. No one should be playing politics with their lives. No one should be demonstrating such callous disregard for the fact that so many Native American women have been beaten, gone missing, and been murdered."