A new service in California allows residents to get approval for a medical marijuana card without leaving their home.
Meadow, a marijuana delivery business based in the Bay Area, already delivers medical pot to patients. Now, they're connecting potential patients with doctors who can recommend them for the program.
The new service, which launched Wednesday, is called CannabisMD. Here's how it works: you create an account with your address and get a same-day appointment. If the doctor approves you for the program, you pay a flat $100 fee. If you're not approved, you don't get charged.

That kind of thing probably won't happen in New York
New York is in the process of implementing a medical marijuana program and it's shaping up to be one of the most restrictive in the nation.
G/O Media may get a commission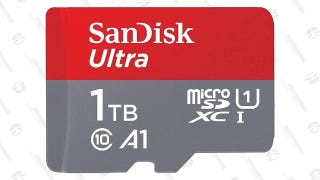 Save $75
SanDisk Ultra 1TB MicroSDXC Card
Gothamist spells out some of the problems marijuana backers have with the new law:
—a list of 10 qualifying conditions that could limit patient enrollment
—authorization to open only 20 dispensaries across the state. With New York's population, that's one dispensary per million people (bring a magazine, it might be a long wait).
—prohibition on smoking pot and marijuana edibles. The law only allows patients to consume medical cannabis in oil extracts that can be vaporized, swallowed in a pill or taken orally.
Activists hope to convince the New York State Department of Health to loosen the regulations before the program is expected to go live next year.

Maybe the suburbs are the best bet
While New York grapples over medical cannabis, Connecticut legislators are eyeing a much bigger leap: legalizing recreational pot.
Two separate bills proposed in the state legislature both aim to tax and regulate recreational marijuana, but the Hartford Courant called the measures "a test balloon of sorts."
Unlike the four states that have legalized recreational marijuana so far, Connecticut does not allow voters to pass laws through ballot initiatives.
State legislatures throughout New England have begun to consider legal pot. Last year, the New Hampshire House of Representatives approved a bill to legalize cannabis in a preliminarily vote, but it never advanced beyond that.
Ted Hesson was formerly the immigration editor at Fusion, covering the issue from Washington, D.C. He also writes about drug laws and (occasionally) baseball. On the side: guitars, urban biking, and fiction.