It's the end of an era. Today is Dodai Stewart's last day as Editor-in-Chief of Splinter. She leaves the site and GMG after an indelible career as a writer, editor, and leader to do something so few of us are brave enough to try: make her dreams come true. Words alone fall short of adequately expressing our gratitude, inspiration, and love for Dodai. Below is the best attempts by just some of the people who have had the honor of working with her. Dodai forever.
---
Isha Aran, Staff Writer at Splinter

I have had the immense luck and pleasure of working with Dodai for the last four years at Jezebel and Splinter. Her eye for stories and studious examination of what drives media and pop culture is unmatched (as is her Pinterest board of hot men). She guided Fusion through immense turbulence, and her vision has shaped Splinter into what we are today. Because I don't actually know how to say goodbye, here's a GIF of some of our fave K-pop boys dancing. THANK YOU DODAI.
Nona Willis Aronowitz, Features Editor at Splinter
Dodai gave me the best present I've ever gotten from any person, which is a handheld fan she bought every one of the staffers in L.A. I keep it close on my desk and use it for all seasons and wished I had it last night when I was schvitzing at her goodbye drinks. Dodai is one of those bosses who will bring you ice cream at 1 a.m. on an apocalyptic Election Night; who will Slack you links about male sex workers partly because you're working on a story about it but partly because she is an unabashed sex nerd to the death, which is also the reason she will ensure that your sexual appreciation of Rami Malek and Zayn is on point; who will pick out the best quote in a piece and make it the OBVIOUS and ONLY possible headline; who will refuse to micromanage even though she's ultra-mega-organized and still writes things down in notebooks; who will Rose Lindsay the shit out of the Suellens who work for her, although she will be wearing a fly sweatshirt instead of a lizard broach.
G/O Media may get a commission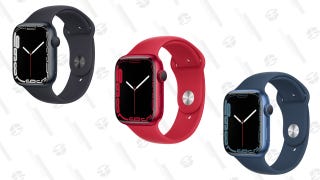 Up To $45 Off
Apple Watch Series 7
What I'm trying to say is that Dodai's womanvibes are an enviable blend of hustle and hedonism, the delicate balance of which I will aspire to always. So every Friday at 5:23 I will pour out a sip of rosé and think about how, thanks to Dodai, my selfies will always look smooth and cute due to Meitu's magic (only the subtle setting tho).
Anne Branigin, News Fellow at The Root (and former News Fellow at Splinter)
You're a queen, an icon, and for those that don't know, a top-notch financial and real estate advisor. When I first moved to New York, I was debating between an over-priced Brooklyn apartment that had beautiful brick walls and a lot of sunlight and an apartment in Harlem that was older and duller, albeit much more affordable (to its credit, the Harlem apartment also had two wonderful roommates who didn't creep me the hell out, unlike the apartment in BK, but that's another story). Ever the sage, you told me to go for the Harlem apartment because that extra bit of money could be put toward a late night cab or extra food and liquor money. And at that moment I realized: Did I come to New York to sit in an airy, overpriced Brooklyn apartment, or did I come to New York to stumble into a cab at too-late-o-clock, vision slightly blurred, purring to myself over how good the gnocchi I just had was? You know the answer, Dodai. Thank you for the sound advice (I'm still in Harlem), and thank you for taking a chance on me.
Aleksander Chan, Managing Editor at Splinter
Twice a day, every day, editors of the various GMG sites receive emails from our tireless audience development team: the morning and evening "recirculation" posts, quick roundups of links to top stories from other sites, designed to "recirculate" traffic through the network. These emails also serve as the foundation of my most treasured Dodai memory.
We had just moved into the GMG building, months after a debilitating round of layoffs had thinned our staff from occupying two floors to not even two sad rows of desks. We had also just moved our site (formerly Fusion.net) onto Kinja, this glorious blogging platform we both left on purpose to only come to use again. Being integrated into the broader GMG family, physically and digitally, was renewing in a way I think we were desperate for.
One morning, early into the "we're now (back) on Kinja!" days, perched in my seat right next to her, I mentioned how the morning recirc email seemed to be running a little late that day. Dodai might have said something like, "Oh, hm, weird." And then, and I don't remember who said this, but one of us said, "Everybody's waiting for the recirc." What followed was a moment of pure psychic connection: We both broke into song, repeating the line, sung to the tune of Loverboy's iconic "Working For the Weekend."
EVVVV-RY-BODY'S, WORK-EN FORTHE REE-SURK
Everyone sitting around us that morning looked at us like we were insane, but we laughed it off. We loved it. We love it!!!
Clio Chang, Staff Writer at Splinter
Some people might use words like "best" or "greatest" to describe themselves but actually those words only apply to Dodai and here is a collage I made as proof:
Madeleine Davies, Senior Writer at Jezebel
I'd call Dodai a mentor to me if it didn't feel like it negated our friendship or her role as my work wife in some weird way, but it's true that Dodai has taught me so much—both as my one-time editor at Jezebel and in day-to-day life. Her signature nameplate necklace reads "Girlhattan," which is deeply appropriate because Dodai is the energy of (the good parts of) Manhattan embodied. It's with her that I—a wide-eyed Wisconsin gal—have experienced the best of New York City. Put your trust in her for the night and she'll lead you to places you never knew existed, like a secret nightclub in Koreatown where you drink champagne out of the bottle and you're the only people speaking English, or a restaurant that was a well-known haunt of Warhol and Basquiat, or a burger place that's hidden behind a trick wall, or a surprisingly affordable cocktail lounge in one of Manhattan's most stately hotels. On a smaller level, it's Dodai that introduced me to the stranger movies of Jonathan Demme, had me over for slumber parties, and planned fantasy vacations with me.
There are lots of things I love about Dodai: her warmth, her talent, her generosity, and the love she has for her family and friends. But most of all, I admire her spirit of adventure and unparalleled joie de vivre, two qualities that will undoubtedly serve her well while writing whatever bomb-ass screenplay that she puts together in the future. In the meantime, please enjoy this old photo of the Jezebel staff at Medieval Times:
Ernie Deeb, Senior Program Manager at Kinja/GMG/FMG/IDK
My first interaction with Dodai was walking her through the mild crisis of embedding a bunch of Miley Cyrus tweets into a Jezebel Dirt Bag on the newly launched Kinja platform. Little did I know she would become one of my favorite people ever, a testament to the unifying force of onesie twerking. As the news cycle grew colder, Dodai provided an unrivaled source of warmth, a brilliant voice, and an amazing collection of sweaters and handbags that I'll miss dearly. Tip: Do not challenge Dodai in Speed Racer the arcade game, you will lose.
Veronica de Souza, Head of Audience & Social at GMG
A few weeks ago, Dodai changed my life when she introduced me to an iPhone app called KiraKira. It adds over-the-top sparkles to any photo or video you take. I am eternally grateful for this.
I'm really going to miss experiencing monthly work traumas with Dodai. It's only been a year but it feels like 10! I wish Dodai the best and look forward to her writing the next 20 seasons of Riverdale.
Kate Dries, Deputy Editor at Jezebel
Since the video I made Dodai on request when she left Jezebel has disappeared into the internet ether, here it is again. Like her, it is still just as fun as ever.
Tiffani DuPree, News Fellow at Splinter
Wow! What a coincidence that when I'm just getting my professional career started you decide to leave! No fair :( I'll miss how you pushed the whole Splinter team to come up with ideas for a particular topic (i.e., One Year Since the Election). Since I LOVE movies and TV, I am really looking forward to watching your final project once it comes out!
Kelly Faircloth, Staff Writer at Jezebel
I still can't believe that I actually got to work with Dodai, whose early Jezebel blogging really meant a lot to me. (Somebody actually writing in a women's publication about plus-size clothing? Imagine!) It's been such a privilege to work over the years with someone so talented, and with such personal style, and also to recommend her the Judith Ivory novel featuring a ratcatcher hero (look it up, it's very good).
Molly Fitzpatrick & Kelsey McKinney, Freelance Writers (and former Senior Editor and Staff Writer at Fusion)
Dodai is a brilliant writer, fierce leader, and wonderful soul; but more importantly she is an unmatched connoisseur of the male physique. Through Dodai, we learned not only how to write a damn good headline, but how to appreciate the male body in all of its forms. Specifically, its shirtless form. We will praise Dodai forever for introducing us to the following men:
Nathan Adrian, Swimmer/ Hottie:
Charles Melton, New Reggie on Riverdale/ Hunky:
Vincent Rodriguez III, Crazy Ex-Girlfriend actor/ Baby:

Hillary Frey, Director of Editorial Strategy at HuffPost (and former Executive Editor at Fusion)
Dodai produced my single favorite piece of content we ran during my time at Fusion: An incredible video mashup of Black Jesus in popular culture, pubbed for Easter weekend in 2015. I'm not sure how she pulled it off, given that we had like zero video producers and a pretty tormented debate over fair use and rights. But it was awesome. Sadly, despite no less than an hour of Googling and enlisting of help from current Splinter staff, it seems to have disappeared into some unsearchable nook of the internet, the victim of one or another migration. I loved that fucking video.
Anna Holmes, SVP at Topic/First Look Media and founder of Jezebel
I first met Dodai when she was an intern and I was an assistant at Entertainment Weekly and immediately took to her over our shared possession of curly hair, brown skin, love of pop culture, and degrees from NYU. Over a decade later, when I was ideating over the site that would become Jezebel, she wrote me (or rather, she wrote a general Gawker Media email address that I happened to be checking) about the new venture and how she could contribute to it. And the rest, as they say, was history.

Dodai wasn't the loudest voice at Jezebel, or the most provocative, attention-grabbing, or unpredictable. (That honor went to younger, whiter, more privileged staffers, who no doubt knew they had the luxury of fucking around and doing dumb shit in public without much harm to their careers or future paychecks.) But she was the most consistent, incisive, colorful, energetic, and courageous, which made her the most beloved writer and editor at the site, both among the readers, and the staff. Her hard work and devotion made Jezebel what it was then, and what it is today. Simply put: Jezebel would not be Jezebel without the contributions of Dodai Stewart. You can quote me on that. In big, 60-point font. With accompanying hearts and bubbles. (Hearts and bubbles are a very Dodai Stewart-like aesthetic.)

There are other things I want to say about Dodai on the occasion of her departure from Splinter/Fusion/Gizmodo Media Group but I will say them to her, in private. Suffice it to say that I am excited to watch her write the script of the next phase of her life now that she's done revolutionizing New York media and changing it for the better. I feel lucky to have worked alongside her, and even luckier to know her.
Melissa Kirsch, Editor-in-Chief of Lifehacker
Dodai is definitely the coolest and kindest person at GMG. Everything is frequently terrible these days, and even at the helm of a publication that's documenting every very terrible detail, she manages to seem unruffled. She introduced me to Chloe's Soft Serve Fruit and the necessity of periodically getting rosé for everyone—both decidedly not-terrible things. I'll miss her!
Katherine Krueger, News Editor at Splinter
I became a fan of the legendary Dodai Stewart back when she blogged for Jezebel and I was but a glimmer in the great blogging goddess' eye. I read her stuff, and some website called "Gawker," religiously. She seemed so smart and cool and wise and was relentlessly interesting to read. The world works in strangely beautiful and mysterious ways, but I never would've predicted that [REDACTED] years later, I'd have the pleasure of working for her. As it turns out, she's even more hardworking, decent, and funny IRL than I could've known.
Working for Fusion News Lab/Fusion/FMG/GMG/Splinter.kinja.com/Splinter has at times been an exercise in crushing uncertainty, but Dodai never blinked. She was our calm in the storm and I'm eternally grateful for her.
I can't wait until she's even more famous and I really can't wait to read more of her writing.
Katie McDonough, Staff Writer at Splinter
Within weeks of Dodai becoming editor-in-chief of Fusion, Donald Trump won the presidential election and dozens of our colleagues were laid off. I can't remember much about the specifics of those early days other than my own sense of rolling panic, but I do remember Dodai, over the next weeks and months, absorbing our questions, anxieties, and frustrations with kindness and an almost supernatural level of composure. It is hard, or I imagine it is hard, to be accountable to so many scared people when you yourself are probably scared, but that is what Dodai did. She steadied us through transition and uncertainty, pushed us to continue the work, and kept our collective shit together over and over and over again. She has also been consistently generous with her very good ideas and affectionately tolerant of my very bad ones. I'll miss Dodai.
Collier Meyerson, Contributor at The Nation and Fellow at The Nation Institute (and former Reporter for Fusion)
Things Dodai gave me: better skin (those face masks whew!), candy from her candy drawer (when I was stressed), countless fucking smiles (that infectious laugh!), the feeling that someone had my back and supported my writing and reporting. Thing Dodai gave me before Dodai met me: The belief that I could write on race in funny and witty ways and still be profound.
Thing Dodai didn't give me despite my nagging: The answer to getting a perfect curl EVERY COTDDAMN DAY. I'm still here waiting/putting you on blast for answer.
Jack Mirkinson, News Editor at Splinter
Dodai's ascendancy to the editorship of this website was such a no-brainer that it felt almost pre-destined. When she took the reins, it seemed like we were in for a smooth ride. Then we got buckets of shit repeatedly dumped on us from on high—from mass layoffs to repeated reorganizations and moves to a wholesale identity change. Also, things in the wider world were not great either. And yet here we still are, with Splinter (formerly fusion.kinja.com, formerly fusion.net) in thriving shape, and that is thanks in no small part to Dodai. She has lead us with vibrancy, steadiness, creativity, humor, optimism and determination, and, above all, has kept us from losing our collective minds. So she's more than earned the right to abandon us and go live out her destiny.
Hamilton Nolan, Senior Writer at Splinter
On June 12, 2011, at 1:33 pm, Dodai Stewart sent the following email to everyone at the Gawker Media office:
it's kinda quiet! anyone want to play some tunes?

Dodai Stewart <dodai@jezebel.com>
Just three months later, on September 12, 2011, at 2:34 pm, she sent this email:
please turn it down

Dodai Stewart <dodai@jezebel.com>

the music
Is Dodai trying to "have it both ways?" Yes. And she can. Because she's the boss.
FOREVER.
Molly Osberg, Staff Writer at Splinter
Once, when we were in our old office, Dodai recommended a place that was good for sitting alone and having an expensive cocktail, if I ever needed to take a breather between work and whatever was waiting out there in the world. It was excellent advice, and I did it exactly once, in November 2016. This might sound like an inconsequential anecdote but it's not, because a huge part of Dodai's job as EIC has been looking out for her employee's sanity during an absolutely horrifying 12 months. It's the kind of labor that doesn't announce itself loudly but I'm not entirely sure where we'd all be without it.
When Dodai decides to grace us with her writing it is careful and vivid. When she thinks her writers are getting cranky she brings in warm cookies and wine. It's rare to have a boss so thoroughly good-hearted in this fucked-up industry and I'm grateful she delayed her inevitable Hollywood fortune to stick with us for so long.
I'm very much looking forward to today's installment of her leaving the office series, which I tried to copy once but failed because I am not nearly as stylish or graceful as her.
Alex Pareene, Politics Editor at Splinter
I've known Dodai for nearly a decade, since both of our first go-rounds at a now-defunct digital media company, when we were both fresh-faced bloggers, excited to see what the future had in store for us and the country.
The ensuing 10 years have thoroughly broken me. I'm exhausted, embittered, hopeless. Dodai, though, still radiates positivity and good vibes. She finds joy in the good things in life—travel, art, Riverdale—and refuses to let the horrors of our era and our industry dampen her spirit.
But the past 10 years have not spared someone close to her. They have been hard on her poor dog, Móle. Móle was a cheerful, happy pup when first I met him, in 2009 or 2010. Eager, curious, friendly, in a good home with a loving caregiver—what else could a dog ask for?
Móle now is me: fearful, constantly anxious, wary of new faces or experiences. Yes, sure, maybe that is just "what happens to chihuahuas when they get old," but what if it's something else?
Somehow, unintentionally I'm sure, due to a wizard's curse or Monkey's Paw situation, Dodai has done some sort of emotional Dorian Gray thing with this poor chihuahua. We can only hope that her break with this wretched industry will break the spell, and let poor Móle heal.
Nidhi Prakash, Reporter at BuzzFeed News (and former Staff Writer at Fusion)
Dodai has been blazing trails since forever, in a world where we're used to watching under-qualified men fail upwards a million times. Whatever she lends her talents to next, I know she'll break new ground and change the conversation for the better. She gave me the rare opportunity to deeply consider how my identity informs my work as a reporter. I'll take those lessons with me to every story I cover for the rest of my career. And I can't wait to see what she does next!
Jorge Rivas, Senior Writer at Splinter
I texted all my friends when I heard Dodai Stewart was joining Fusion. I was a big fan of all her runway model census coverage during Fashion Week. My first assignment that came via Dodai was interviewing Amber Rose and covering the Slut Walk. Amber Rose was great, and she hugged me when I walked into the room. Very nice woman. Then I covered RuPaul's drag queen convention. My assignments only continued to get better. Shanté, you stay.
Tim Rogers, Senior Editor at Fusion
I still remember the first day we met in the cafeteria during sophomore year in high school. I was sitting by myself, a nervous transfer student from Nicaragua. You asked if you could sit with me. I nodded. We started talking about my ailurophilia, but the conversation quickly shifted to career goals. You asked me for advice, and I said I thought you'd make a great editor-in-chief at Fusion, but that you'd be good at other things, too. I guess what I'm trying to say is, thanks for sitting with me that day in the cafeteria.
Emma Roller, Senior Writer at Splinter
Here is my Dodai story: I was visiting the New York office shortly after Dodai sprained her ankle (moral of the story: DON'T text while walking down stairs). I decided to get Dodai flowers at the Union Square farmer's market as a "get well!" gesture. I found a vase in the office kitchen and left the flowers at Dodai's desk before she got in. When she walked in and saw them she said, "Somebody got me flowers? That's weird…" I was sitting directly across from her, and then had to admit that I was the weirdo who had gotten the mystery flowers. So thank you, Dodai, for putting up with me, and having the kindness not to say if you regret hiring me.
Also, thank you for writing the best tweet of all time:

Love,
Emma
Kevin Roose, Business Columnist at The New York Times (and former VP of Editorial at Fusion)
"Theoretically yes, but actually no" is Dodai's signature phrase, and it's also how I'm processing the news that she's leaving journalism. Theoretically, sure, great for her—who among us hasn't dreamed, in a stressful moment, of chucking our MacBook into the nearest dumpster, deleting Twitter, and finding a job that involves zero time staring at Chartbeat? But actually, nope! This is bad news for the rest of us, and I am scared of what a Dodai-less media will look like. I predict less K-Pop scholarship, more bad takes going unchecked, and a general downturn in wise, creative leadership, but the rest is a question mark.
Will Sansom, Facilities Manager at GMG
Dodai is by far the classiest broad to have ever come through this office, and I will miss her style and warmth the most. Anytime I see her, the world just gets a little bit glowy and everything seems like it's gonna be OK. She's the equivalent of that Glossier highlighter stick to me—she just makes everything better in a way that comes off as effortless. I hope to one day see a YouTube tour of her closet because in my mind it's a mile-long hallway full of the fucking coolest shit you've ever seen. I also hope she forever continues to post Instagram videos of her taking semi-drunk cab rides home late at night, because every morning that I watch one I genuinely smile at them and get a feeling of what life must be like through Dodai Stewart's eyes: luxurious as fuck.
She is also kind, sweet, and has never asked an annoying question or made me roll my eyes, which says a lot. I love and respect her and am very excited to see what comes next for her.
Rafi Schwartz, Staff Writer at Splinter
Dodai, Leaving the office one final time:
Elena Scotti, Deputy Art Director at GMG
Geraldine Sealey, Features Editor at The Marshall Project (and former Story Director at Fusion)

Dodai has more T-shirts bearing slogans about Champagne than anyone I have ever met. And that's not the only thing that's cool about her. As a colleague, she was supportive, generous with ideas and advice, brilliant and fun. As a boss, she dealt with a crazy situation—half of her staff getting laid off (or was it more than half? Who can remember, it was an entire website ago) a month after taking the Fusion EIC job—with total class and grace. Also, if you haven't noticed, Dodai can WRITE (see this piece on her obsession with K-dramas, and this morning-after brilliance on Prince). I can't wait to see what she does next.
Tom Scocca, Deputy Editor of the Special Projects Desk at GMG
Escaping Gawker Media and coming back again was such an ingrained ritual, it took an extraordinary person to reverse it: Dodai got away, and then GMG went back to her. In the endless series of dumb twists of fate occupying our lives for the past few years, this might have been the only happy one. It's hard to overstate how much it meant to be reunited with someone who understood what it was all about, good and bad, and who knew the proper value of things, regardless of how those things might or might not be valued at the moment.
Julianne Escobedo Shepherd, Culture Editor at Jezebel
Dodai is a genius who I always admired and whose inimitable template at Jezebel I always tried to follow and honor, but here is the moment that solidified our love: In 2015 we sat next to each other at a Big Bang concert in Newark, New Jersey, on their last tour before the boy-band's members were individually conscripted into the South Korean military for mandatory service, and she gave me a sticker of my favorite member, G-Dragon, winking, which I kept on my phone until it got too grimy to exist. Her dedication to K-Pop, Gucci outerwear, and Rihanna-related custom T-shirts is admirable, but more importantly, her impeccable guidance as a leader and a journalist is something to which we should all aspire. She is gregarious and kind, and this company (and all its iterations) is a lesser place without her. To this I say:
Joyce Tang, Deputy Managing Editor of GMG (and former Managing Editor at Splinter)
I was nervous to start at Splinter, formerly known as Fusion, partly because I'd be working with Dodai, who I had been reading on the internet for a while. During our first all-hands meeting I attempted to sit next to her after she tried really hard to avoid eye contact with me, and then she said "you can't sit here." Classic Dodai. She has been a mean girl to me ever since. OK, kidding. Anyone who knows Dodai knows she's the opposite of this and amazingly generous and an icon because she's taught me about fry days, menstrual cups (life-changing), and Rihanna window dot gif. She has also taught me about how lily-white our news-scape is, who the media should be listening to if they care about the future, and how inclusivity really works. Also, she's someone who can turn around this brilliant and lyrical essay on Prince within hours of his death, while I've been struggling to write this lame blurb all week, so I guess I'm OK that she wants to get back to writing. My real feels on no longer seeing Dodai every day because she's leaving to pursue her childhood dreams are this: classic Dodai.
Dave Uberti, Media Reporter at Splinter
Dodai gave a bunch of us kids the chance to tell stories on the internet, which—holy shit—is still a real job. I can't begin to thank her enough for putting faith in us.
Kyle Wagner, Senior Editor at FiveThirtyEight (and former Staff Writer at Deadspin)
The first thing to know about Dodai is she is much more about it than you are. Doesn't much matter what it is that you're about—bars, dating, K-pop, K-dramas—Dodai is simply in it heavier than you are, and she has the wardrobe options to prove it.
The second thing is that she follows these enthusiasms to their natural end point. This can take a variety of forms. Sometimes it means pursuing and executing a look; other times it means marching up and down the Deadspin desk, unsolicited lunch-date dick pic withering in hand, demanding to know why this is the state of the online dating pool. Dodai tends to get to the bottom of things.
She drinks me under the table and unconscious and into credit card debt literally every time I see her.
The third thing to know about Dodai is—
OK, I lost my place. I was probably about to say that Dodai is a wonderful friend and colleague, and I can't think of another person that I've been so routinely happy to see. Doesn't matter the context, if we're in boom times or bust—but boy howdy, there has been cataclysm—she's one of the miracle people who kept the rogue pirate dumpster and its garbage crew above water. She never got enough credit.
Every bouncer in the city has the same reaction to carding Dodai: Gaze to the face, to the card, face, card, then face again but with his own curling into a question in the form of extreme stink face, which quickly recedes into, "Well, shit, OK." She'll outlive the sun and look good as she does.
And:
Also: She's never taken a bad photo in her life and I'm furious about it.
Libby Watson, Staff Writer at Splinter
Dodai is fuckin' cool. She is always a level-headed presence when we're all wondering what the hell we're supposed to do about the world ending, while also being funny as hell; she is our cool mom. She has a clear-eyed, fiery dedication to social justice journalism, and made Splinter what it is today, a place I am deeply proud to work. I look forward to being invited to the premiere of her movie, which I believe is about a team of spy dogs going to space.  

Laura Wides-Munoz, VP of Special Projects & Editorial Strategy at Fusion

I met Dodai at Mandolin, the courtyard Middle Eastern restaurant in Miami's Buena Vista neighborhood, where Jane Spencer convinced her to join Fusion. She seemed too cool for school, definitely of the NYC popular crowd. I was the standards editor. She believed Fusion did not need a standards editor. We were made to disagree. But there are few people I'd rather argue with at Fusion than Dodai. I came away better and smarter from our discussions. She did not suffer fools lightly. But when Dodai flashed a smile of approval, or tossed off an enthusiastic nod, a wave of charisma washed over the room. She cheered her staff through Splinter's darkest and brightest days, championing their hard work and crazy creative ideas. On the eve of the election, her eloquent writing brought Fusion to life. I will miss the slack photos, but I can't wait to watch her screenplay.
Sam Woolley, Senior Illustrator at GMG
My first week or two at Gawker, I didn't know anyone, but somehow befriended Dodai and ended up having a "Hey, you're from the Upper West Side, too" dinner/drinks get-to-know-you thing at Blue Ribbon Fried Chicken around the corner from the old office. As we ate and drank, I proceeded to draw dicks out of ketchup on my plate, to which she replied, "You know I'm the editor of a feminist website, right, dude?" To which I probably said, "Yes." Fast-forward to maybe five years later, many more chicken dinners, high-end cocktails, and MANY more dicks drawn on plates, and I can honestly say, Dodai is one of the most loyal, honest, and solid friends I could ever ask for. Dodai treats me like family and I'm beyond proud to be an honorary Stewart. I will miss Dodai dearly (until she texts me four pictures of her in different outfits asking what she should wear on her last day). Dodai is an amazing, amazing person and I love her dearly. Her dog, on the other hand, is a piece of shit.