Think late-night Tinder chats or a little Instagram banter is no big deal? Think again. Eighty-two percent of millennials consider online flirtations and relationships "cheating."
This according to Fusion's Massive Millennial Poll, which surveyed 1,000 people aged 18 to 34 about everything from politics to dating to race issues. (For full results and methodology, click here.)
Women take flirtatious online activities more seriously than men, the poll revealed, with 88 percent of female participants calling the behavior cheating compared to 77 percent of men. Which makes sense: Studies have shown that women find emotional cheating worse than physical cheating—and online communication is often more about pour-your-heart-out messages than physical hanky panky.
Now that we've got that settled, say you discover your bae Facebook flirting and want to call it quits—is it okay to break up over text message? Seventy-nine percent said no, it's never okay to split via text.
G/O Media may get a commission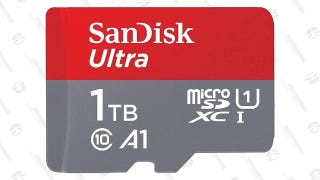 Save $75
SanDisk Ultra 1TB MicroSDXC Card
As for other amorous uses of technology, 32 percent of millennials say they have sexted (men more than women), 26 percent have taken a nude photo of themselves (again, men more than women) and eight percent have made a sex tape (yes, men more than women).
And finally, 33 percent of participants said they had looked at leaked celebrity nudes online, and 25 percent said they had watched a celebrity sex tape.
Fusion's Massive Millennial Poll surveyed 1,000 people between the ages of 18 to 34, with a general population sample and an overall margin of error of plus-minus 3.1 percentage points. The interviews were conducted via telephone from Jan. 6 to Jan. 11. For more on our methodology and poll results, click here.
Taryn Hillin is Fusion's love and sex writer, with a large focus on the science of relationships. She also loves dogs, Bourbon barrel-aged beers and popcorn — not necessarily in that order.