More than two years after Freddie Gray's death, the Jeff Sessions-helmed Justice Department will not charge six Baltimore police officers who were involved in his arrest. The DOJ's civil rights investigation into whether the arresting officers violated Gray's Fourth and Fourteenth Amendment rights found "insufficient evidence" to charge all six.
Officers who were involved in the shooting are: Lt. Brian Rice, Sgt. Alicia White and officers Caesar Goodson, Edward Nero, Garrett Miller, and William Porter. All six were faced murder and manslaughter charges in state courts. Porter's case ended in a mistrial. Nero, Goodson, and Rice were acquitted of all charges. State prosecutors dropped all charges against White and Miller.
Excuse me while I feign surprise that Sessions' DOJ couldn't prove beyond a reasonable doubt that six officers who subjected Gray to a violent "rough ride" in the back of a police van while he was restrained, severing his spine and ultimately killing him, didn't mean to cause any harm.

From the DOJ's report:

The Justice Department also considered whether the evidence established that Officer Goodson intentionally gave Freddie Gray a "rough ride" in the back of the wagon, thereby using excessive force in violation of the Due Process Clause. Pursuing this charge would require the government to prove that Officer Goodson gave Gray a ride that objectively harmed him, and that Goodson did so "maliciously and sadistically" in order to cause Gray harm. The evidence could not bear this burden. In spite of the fact that video evidence shows Goodson making a wide right turn and briefly crossing the double yellow line prior to arriving at Stop 3, neither that video, nor the other evidence, conclusively established that Goodson drove recklessly.
G/O Media may get a commission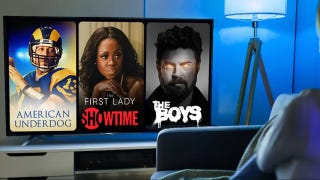 UNDER $1
99¢ Prime Video Channels
Goodson stopped six times on his way to the station with Gray in the back of the van, shackled and without a seatbelt. While Goodson declined to provide a statement on Gray's transportation to the police station, he did call for backup at Stop 3, where Porter, who arrived to assist, told investigators that he heard Gray say "I can't breathe." Porter later denied having heard that, according to the DOJ's report.
This part of the DOJ's conclusion is equally as distressing:

According to the officers, Gray was detained after he made eye contact with Lieutenant Rice and then immediately ran from him. At the time, the bicycle officers were conducting proactive enforcement in an area known for drug sales. Once the officers stopped Gray, they admitted to securing him with handcuffs and then performing a cursory search for weapons, which yielded an illegal knife.
Officers detained Gray because he looked one of the officers in the eye, and yet "prosecutors concluded that a false arrest under the Fourth Amendment was not supported by the facts." An Obama era DOJ investigation into the Baltimore Police Department belies this conclusion, however, as it found that officers routinely made unconstitutional arrests (11,000 during a five year period, to be exact.)

It is improbable that any of the officers involved in Gray's death will face any criminal punishment. Five of the officers, excluding Porter, face internal misconduct charges. Those public hearings are scheduled to begin in October.