As a fashion house, Dolce & Gabbana is known for its love of animal prints, its opposition to gay couples adopting children, and its staunch stance against surrogacy and in vitro fertilization.
Now, thanks to its upcoming 2016 spring collection, the brand might be able to add low-key racism to the list of things that influence its signature style. Earlier today, listings went up for a $2,395 piece of leather masquerading as a sandal adorned with tufts of cotton. Dolce & Gabbana called it their "Slave Sandal."
G/O Media may get a commission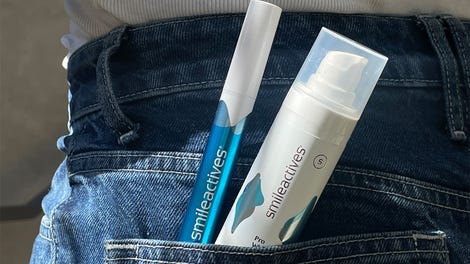 58% off
Whitening Powerhouse Pen & Gel Duo
"The Spring-Summer 2016 collection is a declaration of love to Italy, told through unique clothing and accessories on an imaginary journey through the wonders of this country," Dolce & Gabbana's website says of its new line. "Italia is Love."
Italia may be love, but Italia (and Dolce & Gabbana by extension) has a pretty well-documented history of being culturally insensitive when it comes to brown people. Unsurprisingly, this isn't the first time that D&G have dipped their toe into the shallow end of the racism pool. As The Cut points out, Dolce & Gabbana released a series of earrings last year that were styled after the kinds offensive blackamoor and mammy that are still all too commonly found in Italy.
Dolce & Gabbana's updated site now calls the sandal a "Decorative Flat Sandal In Napa Leather With Pompoms," but upscale resale sites that drew their descriptions directly from D&G still have the word "slave" embedded within their URLs.
As if the racism wasn't enough, the actual heads of D&G, Domenico Dolce and Stefano Gabbana, have been open and frank in their dislike of queer, non-traditional families. The fashion icons came out in strong opposition to the idea of gay families having biological children of their own, calling children born to gays and lesbians "children of chemistry" and synthetic.
We've reached out to Dolce & Gabbana about the decision to name sandal in question and will update this post if and when they respond.