Unless you've been on a technology retreat this week you probably discovered that single people who use emojis have more sex. Well, call us Debbie Downer, but sprinkling 👍, 😱, or even 🍆 into your correspondences isn't going to magically spice up your love life.
The Internet was hijacked Wednesday after Match.com released its annual Singles in America's survey, which polled 5,675 single people about their dating and mating habits. Turns out 54 percent of emoji users had sex in 2014, compared to 31 percent of singles who did not.
With a "fact" like that, it's no wonder the Internet broke.
However, as the Washington Post and probably anyone who thinks about stuff has pointed out, this survey is based solely on correlation, not causation. Which means the use of emojis did not directly cause anyone to go from constantly striking out to scoring. Instead, it simply means that people who use emojis also happen to be having sex.
Let's think about that for a second. What's a common denominator between emoji use and sex? Oh right, young people!
This particular survey polled singles aged 18 to 70+ (yes, that's a plus sign). Common sense tells us that young people—in this case, meaning people in their 20s, 30s and 40s—are probably having more sex than their geriatric counterparts. Turns out young people also use more emojis. (Does your Grandpa really spend his day typing 💩 😉 👏?)
G/O Media may get a commission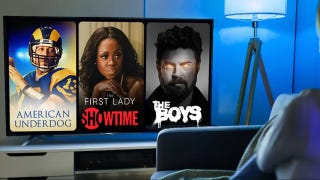 UNDER $1
99¢ Prime Video Channels
So, essentially, this line of reasoning is like saying "people who go to bars have more sex." As the Washington Post's Caitlin Dewey wrote, "The same type of faulty causal relationship could theoretically be drawn between sex and, say, ranking French Toast Crunch among your favorite cereals."
Indeed, other findings might include:

People who eat food have more sex than non-food eaters.
People who like sex have more sex than people who don't.
People who know how to copy and paste have more sex than people who don't.
Quick! Everyone go copy and paste everything you can find: emails, texts, old-school AIM convos. Keep copy-pasting until sex is happening. Sounds ridiculous right? Well, it is.
Taryn Hillin is Fusion's love and sex writer, with a large focus on the science of relationships. She also loves dogs, Bourbon barrel-aged beers and popcorn — not necessarily in that order.