Last night, Trump won 152 delegates in four out of the five primary races, putting his current total number of delegates secured at 621. Meanwhile, Senator Ted Cruz, who is currently tailing Trump, only has 395 delegates.
This morning, on the heels of his victory over Cruz and Ohio Governor John Kasich, Trump took the opportunity to detail his current lead while also challenging the set rules of the race.
"I think we'll win before getting to the convention," Trump boasted. "If we're 20 votes short or if we're 100 short and we're at 1,100 and somebody else is at 500 or 400. I don't think you can say that we don't get it automatically."
In order to win the GOP nomination without question, Trump will ultimately need to win at least 1,237 delegates. Rather than owning up to that fact however, Trump opted instead to raise the specter of his rabid, mob-like fanbase and how they might react if he isn't the GOP nominee.
G/O Media may get a commission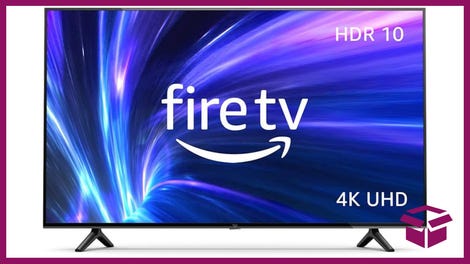 42% Off
Amazon Fire TV 50" 4K Smart TV
"I think you'd have riots. I'm representing many, many millions of people, in many cases first-time voters," Trump mused. "I wouldn't lead it, but I think bad things would happen."
If you ask him directly, Donald Trump will tell you that he does not condone the use of violence. This is a lie.
Couched in his faux-hypothetical predictions of the future are very real endorsements of the idea of thousands of pro-Trump supporters taking to the streets and violently protesting the idea of a world where Trump isn't president.
Not only have anti-Trump protestors been physically assaulted at Trump rallies, the Trump supporters responsible for the violence have expressed their willingness to kill for him. What's more, Trump has made a point of taking his campaign through racially-charged cities like Chicago in what Rachel Maddow has theorized is a calculated move to rile his supporters up.
"Once the battle is over, once the war is over, I think there really is a natural healing process," Trump told CNN. "I've gotten along very well with people."