It has been one month since Donald Trump became the president of the United States. But it has been such a tumultuous, chaotic, bruising month that it feels like five years, not four weeks, have passed.
To help you get your bearings, we've put together a list of the biggest things that have happened since Trump was sworn in.

Trump: Month 1
Protests erupted and women marched.
The president suddenly became obsessed with crowd size.
He signed a "global gag rule" banning funding to organizations who might provide or mention abortions.
G/O Media may get a commission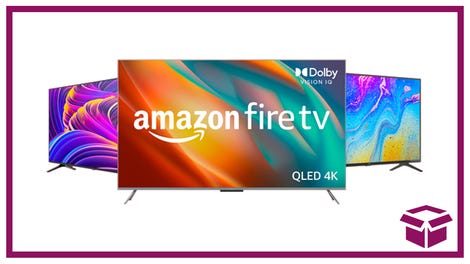 Ooh. stunning.
New Amazon Fire TVs
He signed executive orders pushing ahead with the Dakota Access and Keystone XL pipelines, later explaining that he didn't think that would be controversial because he didn't get any phone calls about the pipelines.
He continued making false claims about massive voter fraud.
He doubled down on his campaign promises to build a wall and deport undocumented immigrants. Then, he said he will publish weekly reports detailing any "criminal actions" by undocumented immigrants in sanctuary cities.
Members of the LGBTQ community and allies held a Queer Rager in protest.
And that was just the first week.
Trump signed an executive order that banned travel for citizens from seven majority-Muslim countries–Iran, Iraq, Libya, Somalia, Sudan, Syria and Yemen–and suspended the refugee program. The Muslim ban caused chaos, confusion and fear at airports as travelers were detained.
In response, protesters flocked to major international airports, and lawyers tried to help the individuals detained. A federal court issued a temporary stay, which prevented detained people from being deported.
Trump fired now-former acting attorney general Sally Yates after she directed Justice Department employees to not to defend the Muslim Ban.
The administration released Trump's final three choices to fill Antonin Scalia's empty Supreme Court seat before ultimately announcing Neil Gorsuch as his final pick.
Trump kicked off Black History Month with a speech that not only did not celebrate black people, but suggested that he might believe Frederick Douglass is still alive.
White House counselor Kellyanne Conway invoked the Bowling Green massacre– which is a terrorist attack that never actually happened–in defense of the Muslim ban.
James Robart, a federal judge in Washington who was appointed by former President George W. Bush, issued a national temporary restraining order on the ban. President Trump responded by calling him a "so-called" judge. The State Department reversed visa cancellations for the travelers who had had their visas revoked by the order.
Trump tried to appeal the temporary restraining order on the ban, but the Ninth Circuit Court of Appeals ruled against a stay, thus leaving Judge Robart's ruling in place. "SEE YOU IN COURT," Trump tweeted in response to the court's ruling. While many expected the case would then move on to the Supreme Court, Trump suggested he might just file a new executive order instead.
The Senate confirmed Trump's extremely controversial nominee for attorney general, Jeff Sessions.
There were reports of ICE raids and deportations around the country, including the deportation of longtime Phoenix resident and mother, Guadalupe "Lupita" Garcia de Rayos, along with at least two people who had received permits under the DACA program. Later, ICE would acknowledge that almost 700 people were arrested.
Protesters blocked Secretary of Education Betsy DeVos, who was just narrowly confirmed after Mike Pence cast the deciding vote, from entering a D.C. area middle school.
Patrons of Trump's Mar-a-Lago got a front row seat as the president responded to a North Korean nuclear launch.
Trump's National Security Adviser Michael Flynn resigned after providing misleading information regarding calls with the Russian ambassador.
Trump finally opened up the White House comment line.
A tape of then-secretary of labor nominee Andrew Pudzer's ex-wife telling Oprah about the nominee's alleged abuse comes out. Pudzer issued a statement withdrawing his nomination for the position.
Businesses across the country closed for a "Day Without Immigrants" strike.
Trump held a wild, deranged press conference with the media, which he seems to hate to the point of sending out a survey asking how much his supporters hate the media.
And that's not even all of it, and there are still many months to come. Although Trump has already addressed many of the policies he promised to enact in his first 100 days, some still hang in the balance, like the repeal of the Affordable Care Act.
Happy Presidents Day.