President Donald Trump is working on plans to make the overseas sales of some American-made firearms much easier than currently allowed under U.S. law, according to a new report by Reuters.

Citing four senior U.S. officials, the news agency claims that Trump administration aides are finalizing plans that would shift the government agency responsible for regulation of international firearms sales from the State Department to the Department of Commerce—a signal that the White House will prioritize the financial implications of selling guns overseas over diplomatic concerns.
"There will be more leeway to do arms sales," one source explained. "You could really turn the spigot on if you do it the right way."
According to Reuters, the proposed shift will be announced sometime this fall, allowing time for public comment before implementation next year.
Democratic senators Diane Feinstein, Patrick Leahy, and Ben Cardin have reportedly urged Secretary of State Rex Tillerson to rethink any changes to the current regulations surrounding international gun sales. In 2002, Sen. Feinstein introduced legislation that ensured all international sales of U.S. manufactured firearms totaling more than $1 million dollars in a single calendar year must be subject to congressional approval—a reduction from the previous threshold of $14 million dollars.
G/O Media may get a commission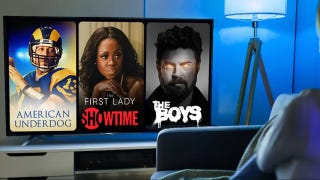 UNDER $1
99¢ Prime Video Channels
Reuters reports that the proposed shift in international gun sales regulation would not only include ammunition, and sidearms such as pistols, but assault rifles as well.
Trump has long been a staunch advocate for gun owners and the firearm industry, telling the National Rifle Association in April that "The eight-year assault on your Second Amendment freedoms has come to a crashing end."
The NRA reportedly poured an estimated $30 million dollars into then-candidate Donald Trump's campaign in 2016, only to see gun sales slump significantly upon his election in the absence of "anti-Second Amendment" boogiemen like Hillary Clinton and Tim Kaine in the White House.
Given the decline in sales, Trump's proposed changes to international gun regulations are certain to be a hit within the gun industry. Speaking with Reuters, Lawrence Keane, senior vice president for the National Shooting Sports Foundation trade association, predicted the changes could result in anywhere from a 15 to 20% increase in annual sales.