Donald Trump, a president lauded by white nationalists and neo-Nazis, is allegedly looking to overhaul a government program originally designed to combat extremist activity across the political spectrum and instead have it focus solely on what he calls "radical Islamic extremism."
Citing five officials with knowledge of the president's plans, Reuters reported that the Trump administration is exploring a total revamp of President Obama's "Countering Violent Extremism" program. The shift would not only see the initiative exclude homegrown white supremacist movements and other domestic, right-wing terror groups, but would change the program's name to "Countering Radical Islamic Extremism."
In 2009, a Department of Homeland Security report issued to President Obama concluded that "lone wolves and small terrorist cells embracing violent right-wing extremist ideology are the most dangerous domestic terrorism threat in the United States." Right-wing extremists have killed more people in the United States since 9/11 than foreign terrorists, according to some studies.
As the Obama administration stated in a 2015 press release announcing the initiative, the CVE program was created "to develop community-oriented approaches to counter hateful extremist ideologies that radicalize, recruit or incite to violence."
"Basically, we're looking to support community based programs that provide alternatives to individuals who have started down a road to violent extremism, or create or amplify alternative messages to terrorist/violent extremist recruitment and radicalization efforts," the program's FAQ page explains.
G/O Media may get a commission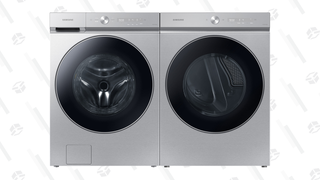 Get $500 back in credit
Last Chance: Samsung Bespoke AI Washer and Dryer Preorder
In the past, the initiative has issued grant money to municipal governments, police forces, and non-profit groups that have addressed extremism across political and religious spectrums, including Life After Hate—a group which focuses on helping former members of extreme right-wing groups.
The program has not been without its critics. The ACLU has charged that, while its goal is admirable, "the CVE strategy risks being counterproductive, alienating the very communities it is meant to engage." And, as Reuters points out, congressional Republicans have long charged that, in its current form, CVE has been ineffective at identifying potential violent extremists." Trump's alleged plan, though, would not clear up civil liberties issues. It would merely redirect them to a single community.
The CVE's potential shift also sends clear messages, both to the Muslim community who would become its sole focus, and to the white nationalist movements who would find themselves with one less layer of government scrutiny—the sort of signal, deliberate or not, that could embolden the neo-Nazis and "alt-right" extremists who are already animated by Trump's victory.
News of the CVE's possible transformation comes after the Trump administration's harsh immigration crackdown, which has largely focused on people entering the United States from predominantly Muslim nations. While there's been debate over the semantics of whether or not Trump's orders constitute a "Muslim ban," statements from the president and members of his team seem make clear this administration's intent: to target, alienate, and marginalize members of the Muslim community.
"That is concerning for us," Hoda Hawa, director of policy for the Muslim Public Affairs Council, told Reuters upon hearing reports of the CVE's potential shift. "Because they are targeting a faith group and casting it under a net of suspicion."