Picture if you will a befuddled Donald Trump. On one shoulder is a tiny Kim Kardashian angel. A tiny John Kelly devil is perched on the other. Both Kelly and Kardashian begin whispering their advice into the president's ears.
That, essentially, is what is apparently taking place at the White House, as Trump mulls a pardon for 63-year-old Alice Johnson—a great-grandmother currently serving out a life sentence in prison for a non-violent drug-related conviction—following Kardashian's high profile oval office visit in late May.
According to the Washington Post, Trump was initially easily swayed to consider a pardon for Johnson thanks in no small part to Kardashian's celebrity bona fides, and not due to any actual interest in Johnson's case.
There's just one little problem. Per the Post:
The potential pardon of Johnson has caused consternation in the West Wing, with top advisers — including chief of staff John F. Kelly and White House counsel Donald McGahn — disturbed by the process, according to two people familiar with the discussions.
Kelly has reviewed Johnson's background and her 1996 conviction — she was sentenced to life in prison on drug possession and money laundering charges — and is not convinced she deserves a pardon, an administration official said. And McGahn has also argued against the possible pardon as an unnecessary action by the president, a second official said.
G/O Media may get a commission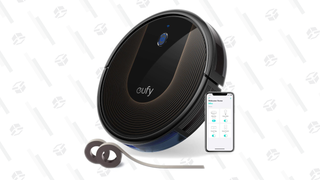 48% Off
Eufy BoostIQ RoboVac
Keep in mind that Kelly and McGahn have had no reported objections to the President's, erm, unusual pardons of racist sheriff Joe Arpaio, Iraq War architect Scooter Libby, and scummy grifter Dinesh D'Souza 
But, sure, an elderly woman serving the rest of her life in prison for a non-violent crime doesn't deserve a pardon. Okay.....
It remains to be seen whether Kardashian or Kelly will win over the president. Given the extended—and highly public—conflicts between Trump and his chief of staff, he might go with Kardashian. Given that he is a bad person, he might go with Kelly.
Update, 12:17 p.m.: Kim won!