Today, in an interview with the Associated Press, President Donald Trump compared the Saudi regime, which allegedly murdered and dismembered Washington Post columnist Jamal Khashoggi inside its consulate in Turkey last month, to Supreme Court Justice Brett Kavanaugh, who was accused of sexual assault by several women during his confirmation process.

Per AP:
President Donald Trump is criticizing the mounting global condemnation of Saudi Arabia over the case of missing journalist Jamal Khashoggi.

Trump says in an interview with The Associated Press: "Here we go again with you know you're guilty until proven innocent." He is comparing it to allegations of sexual assault leveled against now-Supreme Court Justice Brett Kavanaugh during his confirmation hearing.


Trump says Saudi Arabia's King Salman and Crown Prince Mohammed both deny any knowledge of what happened to Khashoggi when he entered their country's consulate in Turkey earlier this month. Khashoggi, a critic of the monarchy, has not been seen since.
Kavanaugh was accused of sexual assault by multiple women during a fraught, painful confirmation process that eventually saw him confirmed to sit on the Supreme Court. He, like the Saudi royal family, denies the allegations against him. You can see where the comparison comes from.
To me, it's not the comparison itself that's so jarring. We expected Trump to defend Kavanaugh, a man he had personally nominated to the Supreme Court. But this isn't a Supreme Court nomination. Turkish officials investigating Khashoggi's disappearance say that Khashoggi was tortured, killed, and then dismembered by a 15-person hit squad sent from Saudi Arabia by Crown Prince Mohammed Bin Salman himself.
G/O Media may get a commission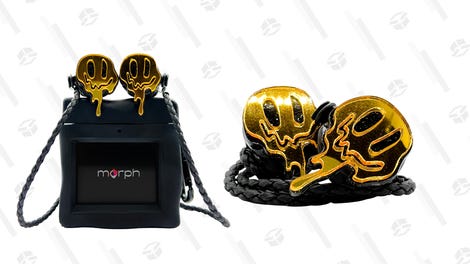 morph audio
Morph Earphones
We know that Trump likes strong men, and bases huge amounts of his foreign policy on personal interactions with country's leaders. His son-in-law, Jared Kushner, has incredibly close ties to the Crown Prince, known as MBS, and whatever conversations that have happened between the two parties have clearly left an impression on Trump. During his rambling interview with "60 Minutes" this weekend, the president openly admitted that he was reluctant to sever any ties to Saudi Arabia because of the amount of money they spend on U.S. weapons.
From the CBS interview:
President Donald Trump: I tell you what I don't wanna do. Boeing, Lockheed, Raytheon, all these com— I don't wanna hurt jobs. I don't wanna lose an order like that. There are other ways of— punishing, to use a word that's a pretty harsh word, but it's true.

In hindsight, this is exactly the answer we should have expected. It just feels uniquely awful because absolutely nothing in the Trump administration seems structured to make any kind of positive impact on the situation. The wildly understaffed State Department doesn't even have appointed ambassadors to either Turkey or Saudi Arabia. The Obama administration is as much at fault for the Saudi's unique stranglehold on political discourse and military power in the Arab world as anyone, but it's still hard to imagine any president other than Trump providing this irate of a defense of alleged political assassinations. Khashoggi is almost certainly dead, and it's a continual blow to know the president has nearly zero interest in giving his grieving family any sort of justice.