Welcome to WHAT NOW, a morning round-up of the news/fresh horrors that await you today.

After months of dispatching the White House Press Secretary and administration lawyers to deny that his Muslim travel ban—in both its original and revised forms—is, in fact, a ban, President Donald Trump dispensed with any lingering illusions on Monday morning.
Of course, he did so in all caps on Twitter:

After Trump's first executive order was halted by the courts, the administration released a second version of the ban, which kept its major provisions largely untouched but dropped Iraq from the list of temporarily banned countries. That order was blocked by courts in Maryland and Hawaii.
G/O Media may get a commission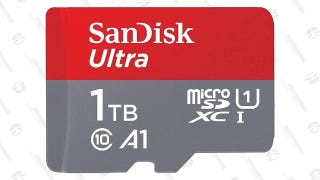 Save $75
SanDisk Ultra 1TB MicroSDXC Card
At the time, the administration's lawyers argued the ban wasn't just a hopefully-legal revamp of the first failed executive order, which sparked protests and mass disorder at ports of entry across the country. So they'll love this tweet, where Trump emphasized that the second ban was just a "watered down" version of the first:
He also tweeted: "In any event we are EXTREME VETTING people coming into the U.S. in order to help keep our country safe. The courts are slow and political!"
Late last week, the administration appealed to the Supreme Court to restore the controversial ban. Judges had already cited Trump's own statements about his plans for a Muslim ban in ruling that the ban is discriminatory, so it's safe to say today's going to be a fun Monday at the Justice Department.
WHAT ELSE?
Harvard rescinded the admissions of at least 10 incoming members of the class of 2021 for posting offensive memes in a private Facebook group apparently called "Harvard memes for horny bourgeois teens."
Alt-right organizers held their "free speech" rally in Portland on Sunday, just one week after a man fatally stabbed two men when they tried to intervene in targeted hate speech on board a public train. At least 14 people were arrested when alt-right protesters and counter-protesters clashed.
WHAT'S NEXT?
The Bill Cosby's sexual assault trial begins today in Pennsylvania. The Times has a rundown on what to expect from the high-profile proceedings, which are already being compared to the O.J. Simpson murder trial.