It's hardly a secret that President Donald Trump and Arizona Sen. John McCain weren't exactly best buds while McCain was still alive. But now that the Republican senator has died following a lengthy battle with brain cancer, it's impressive to see just how committed Trump remains to being a complete and total dick to his longtime foil.

As the Washington Post reported on Sunday:
Press secretary Sarah Huckabee Sanders, Chief of Staff John F. Kelly and other White House aides advocated for an official statement that gave the decorated Vietnam War POW plaudits for his military and Senate service and called him a "hero," according to current and former White House aides, who spoke on the condition of anonymity to discuss sensitive internal deliberations. The original statement was drafted before McCain died Saturday, and Sanders and others edited a final version this weekend that was ready for the president, the aides said.
But instead of releasing a statement that would have contradicted his previous insistences that McCain was "not a war hero" (McCain voluntarily stayed as a North Vietnamese prisoner of war for five years, during which time he was repeatedly tortured) Trump instead told his top aides that he'd just tweet something out instead. No official proclamation, no official praise.
Here, by the way, is what the President had to say:
G/O Media may get a commission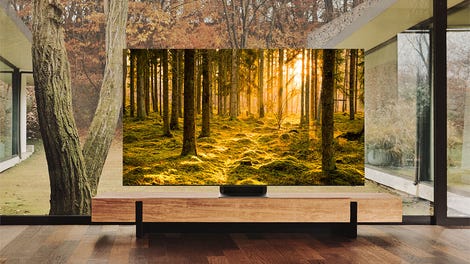 Up to 40% off
Samsung Smart TVs
Wow, you can really feel the emotion, can't you?
It's even worse on Instagram, where Trump added a somber picture of....himself.
Then, after briefly lowering the White House flags to half-mast, the Trump administration ignominiously hoisted them high again on Monday morning, to the abject horror of pundits everywhere:
The flags! My god, the flags!
If anything, though, McCain is the one who gets the last laugh—he managed to finally escape all this petty nonsense, while the rest of us are stuck here with a president who manages to be an even bigger asshole with every new day.