Perhaps you thought you understood the scope of Republican presidential candidate Donald Trump's disrespect for women. Perhaps you thought after his Miss Universe comments, and the Rosie O'Donnell comments, and, of course, the Hillary Clinton comments, nothing could top the list. Even after he referred to his misogynistic comments as "entertainment." But then video released Friday helped us see his views on women with new eyes—through his eyes, specifically. And the view is not only offensive, it's downright violent.
The video released by the Washington Post—part of behind-the-scenes footage from a September 2005 episode of Access Hollywood—shows audio and visuals of a slightly younger Trump palling around with one of the show's hosts, Billy Bush. (And yes, he's part of those Bushes.) In the course of the two-and-a-half minute video, Trump refers to women using extremely vulgar language, which has headlined most stories about the tape. But what is actually most disturbing about the footage is how Trump explicitly demonstrates his complete disregard for sexual consent.
In the video Trump and Bush are overheard while riding on a bus to the set of the soap opera Days of Our Lives, on which Trump had recently guest starred. When they step off the bus, they're greeted by an actress from the show, Arianne Zucker. The true horror begins when the bus slows as it approaches the TV show's set and Bush catches a glimpse of Zucker. "Sheesh, your girl's hot as shit," the then-33-year-old Bush says to Trump. "Yes, the Donald has scored!"
"I better use some tic tacs just in case I start kissing her," Trump, who was already married to wife Melania at the time, is then heard saying. "You know I'm automatically attracted to beautiful—I just start kissing them. It's like a magnet. Just kiss. I don't even wait." And then, the worst of it: "And when you're a star they let you do it. You can do anything. Grab them by the pussy. You can do anything," Trump says.
Upon first viewing of this tape, I was truly rendered speechless. Not because he bragged about "moving on" a woman we later learned is married former Access Hollywood host Nancy O'Dell "like a bitch" (which is absolutely heinous) or because Billy Bush enabled him (also incredibly gross), but because he is literally advocating for sexual assault. In other words: sexual contact without consent.
G/O Media may get a commission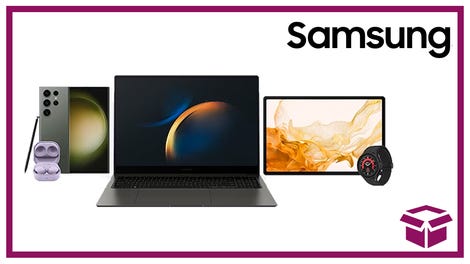 24 hour deals
Discover Samsung - Daily Deal
I hoped to speak to Zucker about the comments made by Trump about her all those years ago and hear generally how she felt about the presidential candidate, but her manager told me she has "no comment at this time." She has yet to publicly respond on Twitter or otherwise.
These latest comments aren't just emblematic of a Trump problem. No, they are a symptom of a problem that has always and continues to plague our society right here in 2016. It's the problem of sexual consent—specifically that so many men have no respect for it, or simply don't even know what it means.
Trump released a statement shortly after in response to the uproar over the unearthed tape, and in typical fashion, he tried to absolve himself by chalking it up to "locker room banter." He also said "Bill Clinton has said far worse to me on the golf course—not even close" and apologized "if anyone was offended." Then shortly after midnight, his campaign released a 90-second video of another so-called apology in which he said, "Anyone who knows me knows these words don't reflect who I am. I said it. I was wrong. I apologized." Then he quickly pivoted to Bill Clinton's misdeeds again and implied Hillary was complicit. To call these responses an actual apology is insulting not just to women, but to any person's sense of human decency.
Saying his words were akin to locker room banter isn't just nonsense—it normalizes violent language against women. It says it's okay to joke about grabbing a woman by her genitals. It says it's okay to kiss her without asking. It reinforces the pernicious notion that women are objects for men's taking. It makes it okay for men like the father of convicted rapist Brock Turner to say the rape of an unconscious young woman was actually just "20 minutes of action." It makes it okay for accused rapist and NBA player Derrick Rose to say his accuser's identity should be revealed because she "is publicly portraying herself as sexual" on her social media accounts.
On Friday, mere minutes before the latest Trump bombshell was dropped and just a few miles from where the Trump tape was filmed in 2005, Rose's alleged rape victim sat on the stand in a Los Angeles County courtroom and had to literally describe to a defense attorney the meaning of consent. The woman, identified only as Jane Doe, has accused Rose and two friends of gang raping her in August 2013. When one of the lawyers for the defense, Mike Monico, asked the woman how she could be sure she was raped if she was, as has been indicated, intoxicated at the time, she was forced to provide this definition of consent: "When two people are actually able to be awake and be with each other. When they are not blacking out. When they are not intoxicated."
It really is that simple. But apparently not simple enough for some people.
Here's the cold, hard truth, fellas: There is literally nothing that makes it okay for you to make a woman feel like anything less than a human being with full agency over her own body. Nothing. And if a man who is potentially one month away from being elected as President of the United States doesn't have a firm grasp on that concept, too many men may feel entitled to think, Why should I?
To make matters worse, the fact that Trump has been accused of rape multiple times makes his comments on the tape that much more disturbing. His alleged victims include ex-wife Ivana Trump, former business associate Jill Harth, and a 13-year-old child.
"These allegations are not only categorically false, but disgusting at the highest level and clearly framed to solicit media attention or, perhaps, are simply politically motivated," Trump said in response to the latter charges, according to documents. "There is absolutely no merit to these allegations. Period." But these stories live on: A judge recently announced a new hearing for the unnamed 13-year-old's case, scheduled for this December.
Will this be the nail in Trump's coffin? The next few days will be telling, but it's doubtful. He has the fervent support of a set of devoted Americans who are more like fanboys of Trump than electoral supporters. What will be more interesting to see is how fellow Republican politicians who have supported Trump up until now react.
Just hours after tweeting that President Obama had signed the the Survivors' Bill of Rights Act aimed to protect survivors of sexual assault, House Speaker Paul Ryan released a statement Friday night saying he was "sickened" by what he heard Trump say about women. Senate Majority Leader Mitch McConnell called his comments "repugnant" and called on the candidate to "apologize directly to women and girls everywhere."
But while a handful of Republican lawmakers have withdrawn their support for their party's nominee since the tape leaked, these party leaders have yet to flat-out disavow him.
In the overall scheme of this totally bonkers election year, the "pussy" comment is just another to add to an ever-growing heap of offensive, demeaning, sexist comments made by Trump. He's made his feelings about our kind crystal clear. But the threat of violence is a bridge too far.
Marisa Kabas is a Sex + Life reporter based in New York City. She loves baseball, bunnies and bagels.