At a recent campaign event in Orlando, Fla., Donald Trump called upon hundreds of breathless supporters to make him a promise—a pledge, if you will—that they would vote for him.
"Raise your right hand," Trump commanded the crowd, instructing them to echo his worlds back to him. "'I do solemnly swear that I, no matter how I feel, no matter what the conditions—if there's hurricanes or whatever. Will vote on or before the 12th for Donald J. Trump.'"
The crowd sort of mangled the pledge, but Trump assured them that their droning mumbles were "good enough." The entire exchange would have been entirely unremarkable were it not for the uncanny resemblance that the crowd bore to Nazis saluting Adolf Hitler.
This morning, Today show host Savannah Guthrie asked Trump point blank what he thought about the fresh round of comparisons to a man responsible for the genocide of over five million Jewish people.
"Honestly, until this phone call I didn't know it was a problem," Trump said in earnest. "I'll tell you what: Almost everybody in the room raises their hand. We're having a good time. I never knew it was a problem."
He continued: "And sometimes we'll do it for fun. And they'll start screaming at me: 'Do the swear-in! Do the swear-in!' I mean, they're having such a great time. They're massive crowds. I get by far the biggest crowds."
G/O Media may get a commission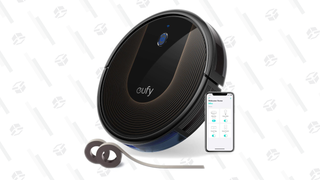 48% Off
Eufy BoostIQ RoboVac
Trump later expressed similar statements of to both MSNBC's Morning Joe and ABC's Good Morning America.
While Trump may not think that he's running a campaign fueled by racist, fascist, sexist, retrograde ideology, actual self-identified white supremacists sure do.
"Donald Trump isn't governed by handlers," Daniel Johnson, chairman of the American Freedom Party (a white supremacy party) told The Daily Beast. "He shoots from the hip and he speaks forthrightly. He does not care what public opinion is."
So you really have to ask yourself: If it looks like a Nazi, and it speaks like a Nazi, and is politically supported by people awfully similar to Nazis, but says it isn't a Nazi—is it a Nazi?
Maybe. It's definitely a Trump, though.