Donald Trump wanted to seat the women who've accused Bill Clinton of sexual assault in the Trump family box during Sunday's debate, according to a report from The Washington Post.
Four people familiar with the negotiations told the Post that the Trump campaign wanted the women to walk in with the families—a place usually reserved for, umm, the families. That would've meant that the women entered the arena at the same time as Clinton, therefore confronting him before everyone took their seats. "We had it all set," Trump's campaign surrogate Rudy Giuliani told the Post. "We wanted to have them shake hands with Bill, to see if Bill would shake hands with them."
The Post reported that the Commission on Presidential Debates stopped the Trump campaign's plan just minutes before it was executed.
Campaign chief executive Stephen Bannon, as well as Trump's son-in-law Jared Kushner, were reportedly the masterminds behind the failed stunt, but Trump himself approved the ploy.
The Trump campaign's attempt to cause a scene in this way speaks volumes about their supposed regard for survivors of sexual assault. If the campaign believes that the accusations of sexual assault against Bill Clinton are true, then asking those women to personally confront Clinton and shake his hand on national television, all for political gain, takes these women and reduces their ordeals to political weapons. This was hardly a quest for justice.
G/O Media may get a commission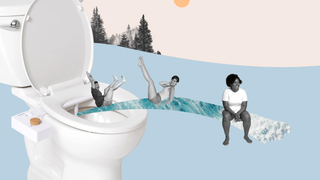 17% off
Tushy 3.0 Warm Water Spa Bidet Attachment
Two of the women invited by Trump to the debate, Juanita Broaddrick and Kathleen Willey, have accused the former president of assault, allegations that Clinton has denied for years. In a recent interview with Buzzfeed, Broaddrick expressed some reservations about the way that the Trump campaign had featured her in political attack ads, though she says she will still support Trump in November.
In 1994 Paula Jones sued Clinton for sexual harassment in a case that was ultimately dismissed, though Clinton did agree to pay an out-of-court settlement.
The fourth woman who accompanied Broaddrick, Willey, and Jones was Kathy Shelton, a rape survivor whose attacker a judge appointed Hillary Clinton to defend in court. Though Clinton, a lawyer, was vocationally obligated to defend the man, Trump has attacked Clinton for her role in the case, claiming there is tape of Clinton laughing about it after the fact. Independent fact checking sites have rating that statement false.
Trump has himself been accused of sexual assault in the past, but denies the allegations. In a recently released video tape, Trump can be heard bragging about how his fame and stature allows him to "grab" women by the "pussy," comments he has since apologized for—but also dismisses as "locker-room talk."