The strange and sordid history of the Donald J. Trump Foundation is hands down my favorite grifter story of 2016. (Sorry, fake teen doctor who keeps getting arrested for being a fake teen doctor.)
Washington Post reporter David A. Fahrenthold has spent the last several months making phone calls, digging up receipts, and subtly trolling the Trump campaign in an effort to get to the bottom of the Republican nominee's foundation and his claims about his own charitable donations.
Fahrenthold's latest report on how Trump's charity runs on other people's money does not disappoint. I do not condone the use of the word "delicious" to describe non-food items, but honestly these details have me all like, yum.
The Donald J. Trump Foundation only barely exists
According to Fahrenthold's reporting, The Donald J. Trump Foundation has no paid staff, and no physical office. It consists entirely of an unpaid board of directors, which also happens to be Donald Trump, his four eldest children, and an employee of the Trump Organization. A last report, back in 2014, they each reported working in service of the foundation for a half an hour a week.
G/O Media may get a commission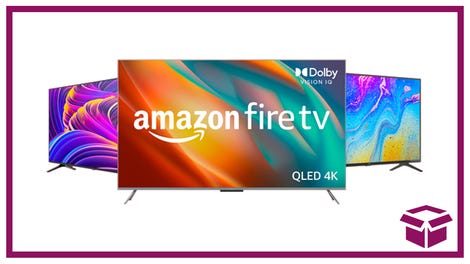 Ooh. stunning.
New Amazon Fire TVs
Donald Trump no longer gives his own money to the Donald J. Trump Foundation
The Republican nominee's foundation is considered a private foundation because it derives most of its money from an individual, family, or corporation. But Trump himself hasn't donated to his own foundation since 2008, according to tax records obtained by Fahrenthold. For the last eight years, Trump has been bundling other people's money and cutting checks with this name at the top.
Donald Trump has received awards for giving other people's money to charity under his own name
In 2010, the Palm Beach Police Foundation gave Donald Trump an award for his "selfless" support of its organization. But Trump hadn't actually given a dime of his own money to the foundation. Instead, he went to a New Jersey charity in 2009 and 2010 and asked them for money to give to the Palm Beach Police Foundation. Both years, that New Jersey charity gave the Donald J. Trump foundation the $150,000 it gave to the police foundation.
Soon after, the New Jersey charity stopped giving its money to Trump's foundation just so Trump could give that money away under his own name. "We realized we don't need to do it through a pass-through," a trustee of the foundation told Fahrenthold.
Donald Trump actually makes a lot of money off of other people's charity
Trump rents his Mar-a-Lago resort in Palm Beach, Florida, to various organizations holding charitable events. In fact, the Palm Beach Police Foundation that gave Trump an award for his selflessness later gave Trump $276,463 to rent his golf resort for a function.
Donald Trump spent $20,000 of his foundation's money on a life-size portrait of himself
In 2007, while attending an event hosted at Mar-a-Lago, Melania Trump bid $10,000 on a six-foot-tall portrait of Donald Trump. After being goaded by the auctioneer into doubling her bid, she won the painting for a cool $20,000. The Donald J. Trump Foundation cut the check.
Using a charity's money to buy shit for yourself is what's called "self-dealing," and it's generally prohibited by the IRS. The painting, according to the artist, reportedly went to one of Trump's golf courses. But as Fahrenthold reported, in that year's tax filing, when the foundation was asked if it had "furnish[ed] goods, services or facilities" to Trump or "another of its officers," the foundation checked "no."
Donald Trump built his business on other people's money. He has also, apparently, built his charitable reputation on more of the same.
And while recent reporting on the appearance of conflict at the Clinton Foundation has raised still more important questions about how the American political system is shaped by the money and influence of a few powerful elites, there is one thing no one is disputing: that foundation actually does charitable works.
The same can't really be said for the Donald J. Trump foundation, unless you consider buying and storing away a six-foot portrait of Donald Trump an act of charity.